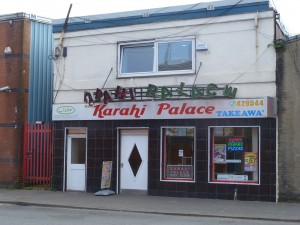 Sitting in Café Salma last evening I thought it better to warn the New Karahi Palace (53 Nelson St, Tradeston, Glasgow G5 8DZ – just along from The Village) that up to ten of us would be descending upon their premises mid afternoon.  Hector also wished to confirm that the upstairs restaurant would be made available to us as it does not normally open until later in the evening.  Communication was achieved but then I kept being passed to other colleagues who appeared to be trying to extract from me what the order would be.  As they would be cooking to order this would save time, alas we were not that well organised, for the majority this would be their first visit, and most certainly not their last.  Hector was worried that he may have ordered a takeaway for ten and not a table at three.
Curry Before Bier, for some
Hector was first to arrive, and pointing upwards I received the nod.  There is a wonderfully large table in the upper room which is designed for such a gathering as The Friends of Hector.  Some were to be reminded of the Turmchen, aka the 'Station Bar' in Traben-Trarbach.  Howard and Tracey were next to arrive, they were not first time visitors.  Dr Stan strode up the stairs and took his place.  One could see he was amused.  Craig, Yvonne and Mags ambled in via the other place and some Jaipur.  This set Craig on his choice of meal; he would have something Jaipur based.  In the end, his Baby Curry was to prove to be the only disappointment of the day, it was too mild, even for Craig.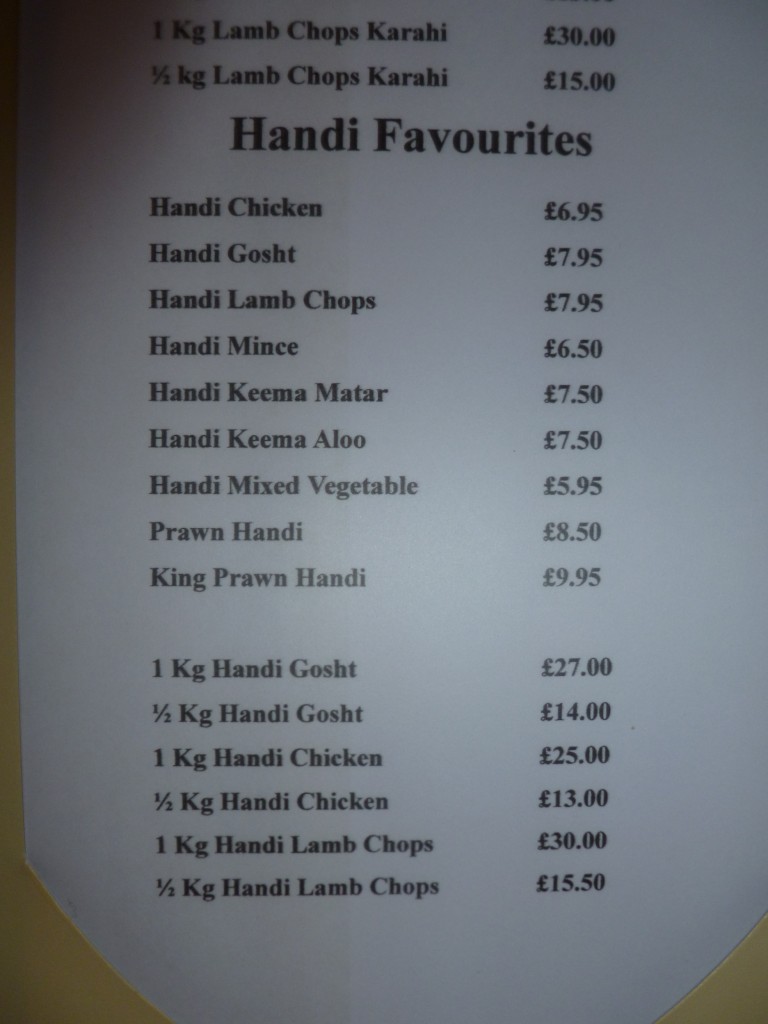 The Karela Handi Gosht was a revelation on Hector's last visit.  It was not on the menu, having only been on the board downstairs   It was available.  'Dr Stan and I shall share one kilo please'.  This was my decision, Dr Stan was happy to trust my judgment.  We were promptly told that it was not available by the kilo.  Moments later there was a confirmation that it was , here we go.
Yvonne ordered a hot Karahi Gosht, Mags a Tikka Gosht, Howard a Handi Gosht, and Tracey her now favourite Keema Mutter.  Boiled Rice, Mushroom Rice, Paratha and Chapattis were ordered as accompaniments.  No starters, but the complementary salad would appear.  We were told twenty five minutes; Yvonne showed her protest by stealing both my napkins.  In the end it took an hour to prepare this array of meals.  Nobody made any comment.  What would Robin have done?
Where were Jonathan, Alan and John? Ah well, they will never know what they missed.
The Salad
Two plates of Salad were presented after twenty five minutes with a bowl of hot red sauce, a small bowl of Raita and a huge bowl of Raita with chopped cucumber and who knows what else.  This was for Tracey who had raved about the Raita after her last visit.  We were all allowed some.
The meals arrived and pretty much together.  It is annoying when one or two meals or sundries appear to have been overlooked and nobody feels able to commence.  One could sense Yvonne's unease with the fact that Craig had ordered something totally inappropriate, his error as he freely admitted.  The rest of us got tore in.
Mags was overwhelmed by the quantity, especially when compared to the neighbouring venue where I shall comment again, if the portions become any smaller one will have to order double.  Of course sharing a kilo is a guarantee of satisfaction. Dr Stan was making positive noises from across the table.  Tracey was thoroughly enjoying her Mince and Peas, Howard his Handi.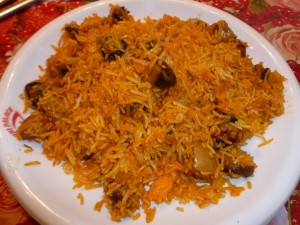 Hector was in his element.  The Mushroom Rice itself is a standout accompaniment.  The bitterness of the Karela, a dark thread strewn through the Masala, complements perfectly the natural sweetness of the Lamb on-the-bone.  This is a distinctive taste and a thoroughly pleasant one.  With this even better replica (?) of the great meal presented on my previous visit, I have no hesitation in adding the New Karahi Palace to my list of Recommended Curry Houses.
The Bill
The Bill was ordered whilst Dr Stan was still eating.  I think his share of the kilo was bigger than mine.  He kept spooning more and more meat from his clay pot.  £86 between seven, and allowing for the fact that two of us had effectively eaten an extra Curry – great value.  The waiter brought a tenner back up to us to verify that this was not an error.  The meal was worth it and the Chef was applauded as we left.
We shall most certainly be back.
Tomorrow is payback time…