Yadgar : Simply The Best, better than…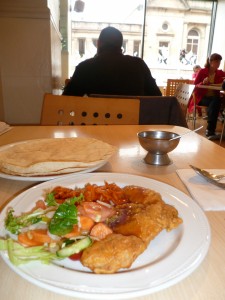 Hector will find himself this weekend in a Curry Desert.  Ironically the lights of Bradford will be seen over the horizon, yet such will be the constraints of looking after the charges, it will be a weekend of Pasta and Chicken, purgatory.
This evening Hector found the positive side of work – I was destined to finish the working day a stone's throw from Govanhill, Yadgar was on my mind.  The Curry-Heute for The Lone Diner was phoned in.
Shkoor was there to greet me, an unexpected pleasure.  No name had been given for the order of Goshat Karahi on-the-bone with Mushroom Rice.  Maybe they knew.
Unlike many meals of late (elsewhere), there were others eating in this pride of Glasgow Curry houses.  The takeaway trade was brisk too.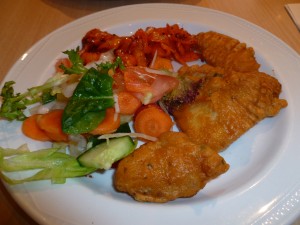 Tonight's Evening Times had interesting articles on the breaking of the ground for the Commonwealth Games Village, and the first in a series of aerial photos showing urban change in the inner city.  The reading had to be postponed when Shkoor presented (on the house) Fish Pakora, with Salad and Dip plus a couple of Poppadoms.  I like being spoiled, this is the place to be spoiled.
The Main Event
The Goshat Karahi was delivered this time without ceremony.  Gosh!
I hadn't asked for the dry 'Hector style' but with the man in da house, the meal was presented in the iconic form.  I hadn't asked for hot, it was hot too.  The Mushroom Rice could stand alone as a dish in its own right, the kick form the Chillies, superb.
They know what I like and I like what I know…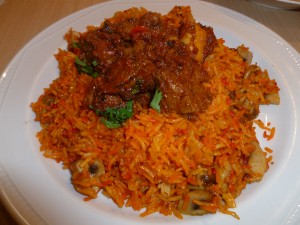 'I wish I lived upstairs.' I remarked to Shkoor when he asked the customary question – was I enjoying the meal… 'Ever so slightly.' was the further comment.
People have been in touch with Hector to ask what it is about the Yadgar Curry that makes it the best I have ever tasted in Glasgow.  If I could identify the taste I would buy the ingredient by the bucket load.  It must be in the blend because nothing different is evident.  The virtually nonexistent Masala, the Lamb on-the-bone revealing its secrets as one devours the mass.
The Bill
I paid, and nowhere near enough.  One cannot even tip when this happens.
What do you mean you have never eaten at Yadgar?
For those living outside the city, or even this land, buy a ticket to Glasgow and jump in a taxi.  Everyone knows where Calder St is.  For those who are resident, why on earth have you not been?  I suppose the Chicken Curry enthusiasts may not share my obsession, as for the Veggie crowd, well, do they really like food?  This is Lamb Curry as it should be served.