This evening Marg and Hector were entertaining Kirsty who sadly will not be a regular part of lives at the end of this week, ah industrial relations…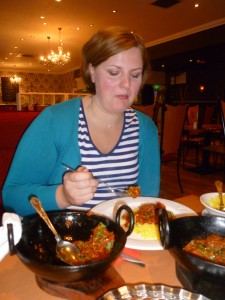 A Helensburgh Curry-Heute would have been an obvious selection but the keen reporter has not had the opportunity of visiting a Dumbarton Curry house in the past year or so.
Having only been to One Up (61 High Street, Dumbarton, Dunbartonshire, G82 1LS) some years ago, or this location at least,  Hector was open minded and hopeful.  There were fewer than five people dining in what is quite a large upstairs, surprise surprise, room.
The waiter brought us Complimentary Onion Chutney and Poppadoms (the menu said these could have been £2.95).
A Haggis Pakora was the solitary Starter.  This is always enjoyable but really, is it more than just Haggis in Batter?
The menu had an extensive list of House Specialties, but it was the Chefs Signature Dishes which caught my eye. Lamb, just Lamb?    The description gave the choice more credence: 'On the bone slowly cooked with Punjabi spices.  An authentic dish enjoyed by our staff.'  So says the takeaway menu though I thought the House menu said 'enjoyed by our ma'.  The menu advis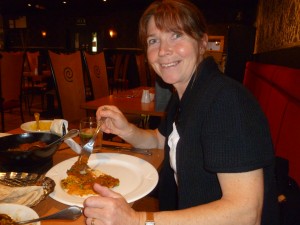 ed 'when available' the waiter was not sure if it was.  He did mention Lamb Chops.  I took the risk.
Marg opted for the Special Karahi Bhoona in Lamb and Kirsty the South Indian Garlic Chilli Chicken.  Chicken.  One Chapatti, one Aloo Paratha, one Pilau Rice and a Mushroom Pilau Rice were our accompaniments.
The meals were brought in large black Karahis and the contents were sizzling.  This always impresses but what about the taste?  I cannot say that there was anything distinctive about my Lamb dish at all.  It was competently cooked but there was absolutely nothing to become excited about.  The portion of Lamb Chops was ample and the meat tender.  One kept hoping that a flavour of note would reveal itself, alas, not.  Kirsty's dish will forever remain a mystery; Marg always leaves me some…
It was just as well that I did not sample Marg's earlier, gosh it was poor, actually, unpleasant.
'It was OK.' was my reply to the waiter when he took away the debris.  Indeed, it was.
The Bill
£40 felt somewhat steep at the time.  The mains cost around the seven to eight pounds mark.  Only one bottle of a brand of beer (note spelling) that I would never promote was consumed.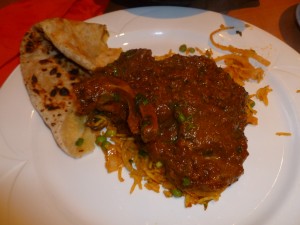 I have had better, I have had cheaper.
Update:
One Up is no more – Bollywood Lounge – is the new branding, new management.