Marg: 'Don't book the summer holiday right at the end of term, I need time to get organised.'
A month ago Marg realised she could squeeze in an International Vets Hockey tournament this very weekend. The tie was put in the drawer, instead of going out with the Colleagues for Mahogany (Teachers' New Year), we found ourselves speeding down the M74 and M6 in the direction of Yorkshire. I was there last week…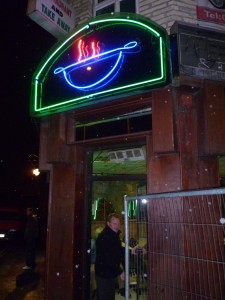 Having been dropped at Brighouse for the rendezvous with Mr Holden, the Richard Oastler was once again a too fleeting visit before the much mentioned Haigys which has the advantage of being around the corner from the Sheesh Mahal, Bradford's #1 recommended curry house (6 St Thomas Road, Bradford BD1 2RW). At Mr Holden's insistence his friend Eamon had been dragged into the ritual.
Omar, my man, was there to greet me. Mr Daft, a co-diner on my second visit, was also sitting at the rear of the room.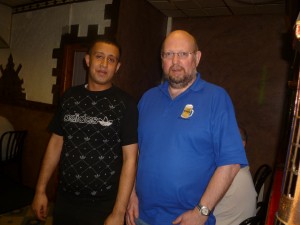 We took our seats. Omar showed me a menu then removed it – he assured me that he would be taking care of me.
'Lamb, dry, on-the-bone with Herbs – he remembered the order exactly since my last visit in February. Eamon had the traditional Chicken Tikka Masala (really!), Mr Holden was tempted finally to order the Sheep's Brains having resisted in recent visits. Various Breads were negotiated, all inclusive as is the Bradford way. The Sheesh Mahal even gives a discount for CAMRA members. Surely we should pay something towards the meal?
The Chaps had Starters, Sheesh Kebab and something Green and Brown, Hector was maintaining his appetite for what was to come.
I can make no comment about Eamon Dull's Dish, is this a Curry Lover? Mr Holden's Brains looked Offal, he was not put off and got stuck in. There will now be a gap in the report.
Once he had recovered, Mr Holden completed his meal and appeared to have enjoyed it.
Omar's Special #2
Omar told me there was a hint of Spinach in my meal this evening, no doubt an attempt to increase the Herb content. The Lamb on-the-bone was part Lamb Chop, and half not. Hector was soon in Hog Heaven, dipping the Bread, sucking the bones, marvelling at the taste which is simply Bradford. Hector could live here very easily.
The Bill
£7.50 per head, for as good a Curry-Heute, sorry, for one of the best Curry-Heute.
The Aftermath
The ritual photographs included an introduction to Taj, the owner.