After a splendid tour of North West Yorkshire which featured first visits to Sowerby Bridge, Todmorden (where an angry proprietor took issue to the ritual sharing of a Black-pudding Pie, cf Bier-Traveller.com), and Hebden Bridge; we returned to Bradford in good spirit with a bus which dropped us off in Morley St, home of some of Bradford's finest Curry Houses.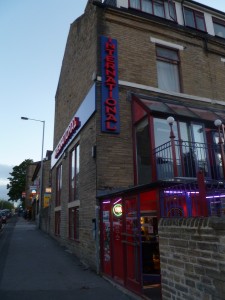 The International (40-42 Morley Street, Bradford, BD7 1BA) has only featured in the Curry-Heute Blog prior to this as the supplier of a takeaway. They do not open early, so Kashmir has usually been the recipient of The Funds of Hector. The place was stowed, I have never been here this late before, it was excellent to see so many enjoying what Mr Holden has for years insisted is the provider of the best Curry in Bradford. Hector has been eating here for many years, but the frequency of the visits would be double if they opened at lunchtime.
The laminated menu has two sides, easy to miss. The Lamb Desi was right in the middle, available in two portion sizes. I chose the more modest portion at £9: this includes choice of Nan, or Boiled Pilau or two Tandoori Roti, I selected the latter. Mr Holden managed to find a sneaky Meat Krahi Karela. Now Hector has only recently been enjoying the delight that is the bitter vegetable – Karela. Here is the great Curry Guru of Bradford on the same Stairway to Heaven.
Given how busy the restaurant was, the wait was not too long at all. The Rotis were impressive, they had the dimensions of a generous Nan, and were the classic tear drop shape. The Lamb Desi was everything I hoped for: Tomatoes, Onion, Garlic, Ginger and NO Capsicum!
Was this better than the Sheesh Mahal? Does it matter? The fact that this venue has served consistently stunning Curry over the years without skimping on quantity, or being too greedy with the pricing structure, is something a couple of Glasgow establishments could do well to consider.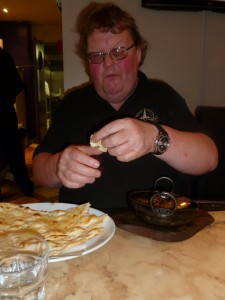 The Man who oversees the operation was happy to pose with Hector. Who on Earth? He possibly thought…