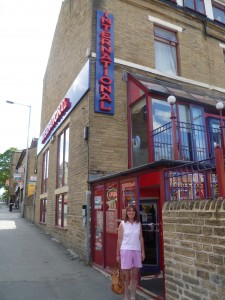 Marg was playing Hockey in Sheffield, this is how Hector came to be let loose with Mr Holden in Bradford over the weekend. The Scottish Veterans beat the Home Countries to retain the trophy. Marg was in good spirits but was aching. A team-mate had not fared so well and had to be driven home by a husband who had made a mad dash, well he took train(s) down to drive his car and lady back to Scotland. This left Marg with three refugees needing a lift.
And so Hector entered The International at 17.00 accompanied by four victorious ladies. The Head Waiter from last night was straight over to greet Hector. 'I have brought my wives.' The Man, sat in the corner, ironically watching hockey on tv also now acknowledged me. If only I could be here more often.
Why order a Glasgow Curry? This is Bradford.
The 'Wives' may or may not have been in the mood for Curry-Heute, Hector was driving back to Glasgow, a fate accomplit. Sharon ordered Chicken Tikka Masala. People do actually eat this. Maureen had a Chicken Tikka variant, and Ellen – a Chicken Dansac. Chicken, no further comment required. Marg was not in the mood for a full meal having given in to a Chicken Burger back in Sheffield – is the dutiful wife loosing the plot? She decided a couple of Starters would be preferable: Chicken Wings and Vegetable Pakora. What a mistake to make.
Hector was on a mission: the Meat Krahi Karela enjoyed so much by Mr. Holden last night had to be the dish of the day. Two more Tandoori Roti would again be the perfect accompaniment. Various Boiled Rice and Nans were sought by the ladies.
Five go eating
The Complementary Poppadoms and Chutneys had not been totally devoured.
Marg's Starters arrived: a plate piled high with Chicken Wings and the largest pieces of Vegetable Pakora ever seen. Ha! Hector can make no comment on the meals served to my other wives today. They claimed they enjoyed their meals, nobody managed to scrape their plate clean. Chicken.
Meat the Krahi
The Lamb was off-the-bone. The texture was perfect, the taste was, well, one had to be there. The reader must realise by now that Hector could identify a Bradford Curry blindfolded – if that were to make a difference. However, with the aid of his visual acuity, Hector was able to note that there were visible pieces of a Green Vegetable, the Karela. At the New Karahi Palace (Glasgow) the Karela is usually mixed through and is not that easy to identify. I am learning all the time. The bitterness was not extreme at all. Indeed, one wonders how sweet the dish would have been without the Karela.
The Bill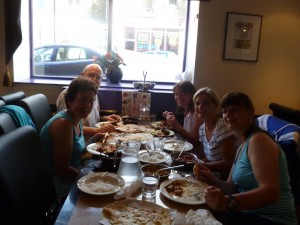 £34.50 between five. Why pay for a tablecloth? The best of Curry at the best of prices.