'Are you going out for a Curry tonight?' Andy, the taxi driver
A chance question posed by our driver between Glasgow Airport and Clydebank.  Little did Andy know how in depth the discussion would become.  It was great to meet another Curry enthusiast. Andy has been to most of Hector's favourite Glasgow Curry Houses, one or two recommendations were given too.  Hopefully new discoveries may be passed back.
After The Other Place
The Kipling was destroyed by the assembled crowd.  The timing of Hector's return to Glasgow was such that a pre-Bier Curry was not on; it would have to be post-Bier.  Mags was keen, and so we headed up to Cafe Salma (523 Sauchiehall St, Charing Cross, Glasgow, G3 7
PQ).  No Hassan, so still no hug.  A  single complementary Popadom  arrived with the Chutneys, another was brought quickly when the first disappeared.  This was breakfast.
Mags ordered the Punjabi Karahi on-the-bone and Hector the Lahori Karahi (hot) also on-the-bone.  The latter of course has no Capsicum.  A Mushroom Rice and the wonderful Garlic and Coriander Nan were the Sides.
Without Hassan the venue does lack something, the gushing welcome is a feature of the visit.  The new staff  now recognise Hector, but we are not pals yet.
The Curries earlier in the week were most enjoyable, however there is always an air of anticipation when the steaming, sizzling,  hot Karahis are brought to the table.  Boy did we get torn in…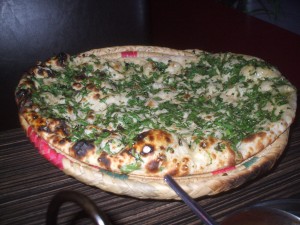 There was only a scrap of the large Nan left at the end, Mags took a minimalist doggy-bag, mostly Rice.  This was soooo good.
The best thing about going away is coming home.