'Hello, Tom, you haven't been here for a while…' aaarrrggghhhh…..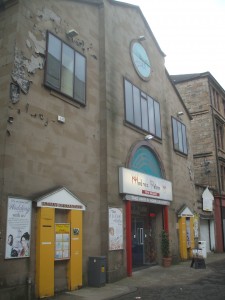 I had to put the waiter right, he was doing his best.  What a mistake to make.
Making up for the lack of a balanced diet, Hector was out early today .   Walking down North St I noticed that the Madras Palace (15-17 Kent Rd, Charing x, Glasgow, G3 7EH) aka Panjea/PJ's was open.  Good enough, in we go.
Having recovered from the unfortunate greeting I found myself choosing exactly the same dish as on my last visit: The Desi Lamb, with Mushroom Rice.  I asked for on-the-bone as was listed on the menu, but this was not available.  I was promised a good Curry: 'I'll tell the Chef to make it good.'
The Rice portion was decidedly small for the £2.50 being charged, the Curry portion was bang on.
The Lamb was tender but there was the distinct feeling that this was presented out of the classic Lamb Pot.  There was nothing coming from the Lamb taste wise at all.  The Masala had the occasional hit but this Curry was sadly nothing special.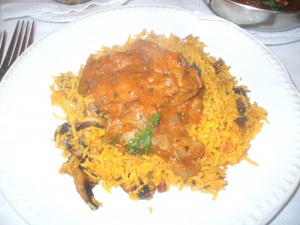 It was suggested that the next time I come I should phone in and they will ensure that Lamb Chops are available.  What was wrong with today?  Surely the menu should be available to all at all times?