Robin's Random Ramblings took us past two Curry Houses within minutes of Amsterdam Centraal. The first was South Indian, the second, Indiaas Restaurant Namskar (Haarlemmerstraat 47, 1013EJ, Amsterdam) looked more interesting. Perhaps the suspicion of less coconut?
Hector left the Chaps at Arendsnest, one of the premier Bier Houses in Amsterdam, they had Bier on their mind, Hector had Curry-Heute.
The Lone Diner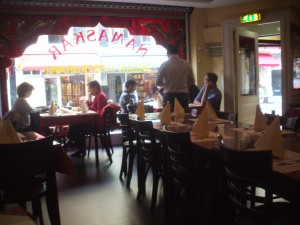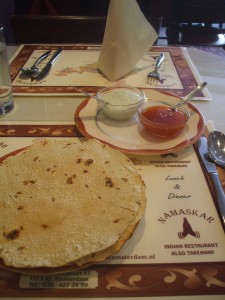 Have I written this before? The place was well stowed when I had passed at 16.00. This had been a moments persuasion. The Lamb Chops Curry advertised in the window menu was the main feature.
At 18.00 I took my seat, the place was empty, but more arrived during my meal. The order was given. The complementary Poppadoms arrived, with dips. The red dip was sweet-ish but spicy, a new taste. As the Chef was not that busy it did not take too long for the Curry to arrive.
The Lamb Chops were piled high on a rather small steel dish. This was not scrawny Lamb, there was meat. The Masala was not a soup but a Onion rich presentation that wowed. Given the nonsense of the previous week, Hector was on his way.
The Lamb Chop Curry
I have written in previous entries how I had yet to come to terms with waiters telling me that Lamb Chops was the way ahead. Now maybe I am coming to terms with this. The Lamb is on-the-bone. Hopefully it has been marinated. On this occasion there was little evidence that the Lamb had met the Masala before the plate. This is in no way a criticism. There was a new flavour coming from the Lamb and the Onion rich Masala that was making Hector take note. This was no accident. There was a new ever so slightly sweet flavour emanating from the meal, this was thoroughly enjoyable. The Spice hit was not overwhelming, this was just thoroughly pleasant, yes, enjoyable.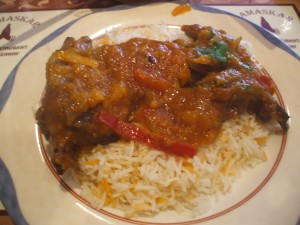 Hector will certainly consider a return visit, this was an impressive Curry. Not an A List recommendation by any means, but certainly good enough.
The Bill
The Calling Card was dispensed as the cash was parted with. Oh, how this moment focuses the mind of the suppliers. The conversation got under way:
There are about thirty Indian restaurants in Amsterdam. About half are good. Those with Nepalese Chefs are not.
We discussed Belgium, Nepalese Chefs were to blame.
This concurs with what was stated in Brugge. Let this information be noted. If there is something political behind this I know not, I care not. Hector is out in search of perfect Curry-Heute.
Cook it and I will come.