This was Hector's first full day in Amsterdam. On the train in from our hotel at Schipol, Robin, Craig and Yvonne realised that with a long day in front of us, a good intake of food would be required to set us up for the day. With Robin once again leading us along a merry path, we found ourselves walking along the main dual carriageway from the station to Dam. Mr Google showed two restaurants along this street, The Moti Mahal (Nieuwezijds Voorburgwal 34, 1012 SB, Amsterdam) was directly across from us.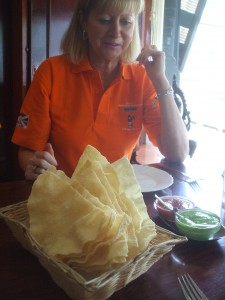 It was 12.30, we were the first customers of the day. A young waiter showed us to a corner table at the window. The menu had nothing out of the ordinary, no Karahi, no Desi dishes, the classic UK 1980s menu. The Lamb Vindaloo was to become the Hector Curry of choice, not for the heat but because the magic word Herbs appeared. A tall elegant gentleman resplendent in a turban came to take the order. Robin opted for Lamb Rogon Josh, Yvonne the Lamb Madras, and Craig a not-so-baby- Curry, the Chicken Jalfrezi. Little did he know what he had done. Hector ordered a Roti so as to dip the Masalas.
Four very large Poppadoms a were presented with the Spicy Sweet dip I had experienced at Namaskar, and the same Mint Raita. These were devoured, this was breakfast.
Now for lunch
The visual experience was encouraging. The Masalas were all thick and rich in texture. Although Oil was evident there was not a lake of Oil covering the food. So far so good.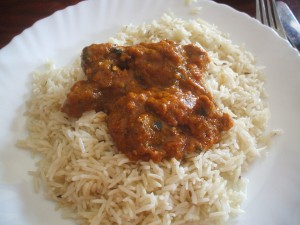 The first dip was superb. This was hot, really hot. I do not normally order a Vindaloo, usually it is the last resort, this was stupendously hot. Did I say it was hot? This was the hottest Curry Hector has eaten in years. Heat is not what a Curry is necessarily about. There was wonderful Citrus after-taste that was reminiscent of Glasgow's Village, remember The Village? The sweat was pouring, the Curry consumed, the bowl was scraped clean. This is the best fun Hector has had this vacation.
Yvonne was first to be positive about her Madras. She stated she would certainly order this again if back in town. It was Spicy, but not excessively so. Yvonne too was getting the Citrus flavour.
Robin just eats his Curry. 'Very enjoyable' was his statement, and far from his description of his previous Belgian experience.
Poor Craig
Craig, the baby became Craig the man
F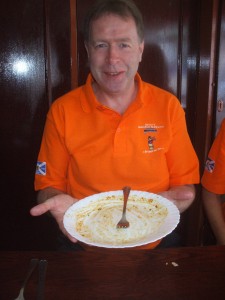 rom his first taste I could see sitting opposite that his eyes had taken the full whack. I could tell his dish was hotter than he had bargained for. He continued eating. More Rice was applied. The inclusive Rice was in generous portions. Yvonne was clearly worrying about her beau. Still Craig ate on. We tried his Masala, it was way hotter than the Madras! It was not as hot as the Vindaloo, did I mention the Vindaloo was hot. Craig stuck with it, it was the flavour that was driving him on. This was a Curry way beyond Craig's comfort zone, yet he ate every last piece of meat and grain of Rice on his plate.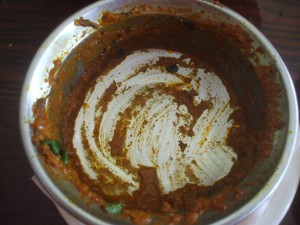 Our waiter had been in attendance to ascertain the level of our enjoyment. He came across as genuinely interested. I was honoured at the end of the meal to have the photograph taken.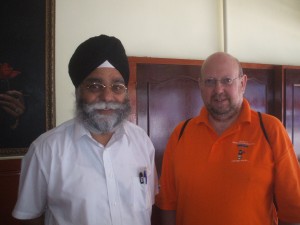 The restaurant was officially not open. They normally do not open until mid afternoon. Today a group of about twenty were there for lunch, all in traditional dress. Someone's birthday? I wonder what they made of us? Hector was almost applauding as he left the Moti Mahal.
This was a magnificent Curry experience.