Howard contacted Hector midday to inform him that Bier-Traveller.com had been hacked. It was no surprise to find Curry-Heute had fallen victim to the same sad person. These pathetic geeks who sit in their bedrooms, have probably never had a girlfriend, and mostly likely will never have one,  and get off on trying to disrupt the lives of others, well, sod them.   Get a life.
With Curry-Heute restored to its visually stunning and informative best, the only thing to do was go out for a Curry.
Hector has not been to The Village (129 Nelson St, Tradeston, Glasgow, G5 8DZ) since the end of April.  Steve reminded me the other night just how good the Curry is.  I have never questioned the quality, but certainly the quantity.  It was time to make a return visit.
The Village remains in its temporary location across the street.  Temporary?  They have been there some sixteen months.  I was assured that the workers were across the street in the new unit and that by October everything should be in place.  We shall see.
The place was certainly doing good business
The Curry order could only be The Village Lamb Desi Korma (hot) off-the-bone with Veggie Rice.  It came in minutes, the joy of dining alone.  The Yogurt rich Masala and the magical citrus aftertaste, one could pick this Curry out of a hundred if someone could find a way of lining up one hundred top Curries.  Hector is becoming delusional.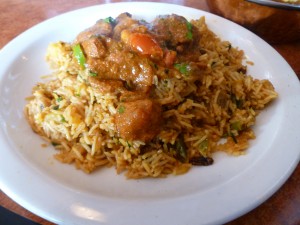 The Vegetable Rice was as modest in portion size as the Curry. There was enough, just.  At £10.50 including the bottle of Sparkling Water, not hard on the pocket. I still think I would prefer to pay a couple of quid more and secure more Curry.