All's well that ends well
Tracey and Howard were missing from The Friends of Hector's  return to The Khyber (221 St. Andrews Road, Glasgow, G41 1PD). This was due to the cooking of a Bradford style Curry midweek which Howard had (allegedly) declined in favour of his reported day out with Hector at Café Serena. It is good to see a Chap who has his priorities correct.
The promise of Kipling at The Other Place saw Hector collect Craig, Yvonne and Mags, and with the aid of a Fast … can one still use this term?, taxi to the South-side.
Dr Stan arrived moments after the 15.30 rendezvous.  Jonathan had already telegraphed that he would be late, he was.
Telephone Line
One is left to wonder what is the point of phoning in an order the day before if nobody at the other end bothers to write it down.  Our regular MC, Hamza, was not there to greet us.  Instead a young Chap who looked still wet behind the ears seemed puzzled by our arrival.  The relating of a booking with an order for six Lamb Karahi rang no bells.  From the kitchen there were loud mutterings in Afghan, if that is what they speak.  The bottom line, my attempt at avoiding a wait was in vain.
Start again
The order was given in full.  One Seekh Kebab (for Dr Stan), six Lamb Karahi (half kilo, on-the-bone is standard here), five Boiled Rice and three Roti. There was an apology.
Ten minutes later our Chap was back: 'Can I have the order again please?'  This time he wrote it down.  One was left to wonder if he had actually understood a single word that had been said to him from the moment of our arrival.
Jonathan arrived, on informing him that we were here for a long wait he ordered a Mixed Kebab.
The Full Robin, and more…
In any other establishment we would have walked by now, Robin certainly would have.  At The Khyber they cook the meals fresh.  Of this they are very proud.  We knew the wait should be worth it, but what exactly had the young waiter recorded.  He kept emphasising Starters… what was going through his mind?
A Chef appeared and promised us that everything would be 'fresh'.  This was reassuring.  By this time Craig was counting the quantity of Kipling he could have consumed.  But who would the waiting on his behalf?  It was Craig, the new Curry Man, who had called this trip.  Having had a 'Baby' version last time, he was ready for the full assault.
More time passed, and even more.
Yvonne noted that the Complementary Salad had not made an appearance.  For those of us who had starved ourselves all day in anticipation of what was to come, well the stomach was rumbling.  I speak for myself.
 At 16.20, a full fifty minutes after we presented at The Khyber, the Salads appeared with the Raita. The Two Starters were then brought to the table. Two people now had something to eat.
At 16.25, five Lamb Karahis were brought from the kitchen, even Chef lent a hand.  Dr Stan and Jonathan were left eating their Starters and wondering if a sixth Karahi would appear.
 16.30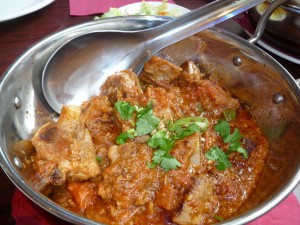 A full hour after our arrival, we were all tucking in to what is a magnificent creation.  As has been written by Hector before, this is not the normal Curry served anywhere else.  This is something very special.  It is Stew like in appearance, but these thought do not linger.  The flavour is unique.  The normal array of Spices have clearly not been employed.  This is slow cooked Lamb, in its Juices, the Vegetables and Peppers then add to the brew.
The quantity is something else.  How my friends can eat a Starter and then this I know not.  The Lamb is so tender, it is light.  The Masala is sheer perfection.
The young waiter came over to the table: 'We are happy.' I informed him.
It took a full half hour to eat the food set before us.  Two dissidents dared to suggest that they now prefer The Khyber to Yadgar.  This is quite a statement.  One cannot give the food any higher praise in Hector's book.
The food is wonderful. Today the service was poor.
The Bill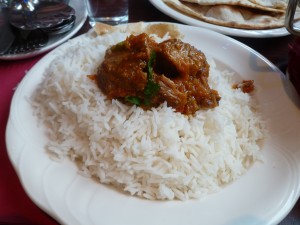 £85, between six.  This included two Starters totaling £7.  The tip was modest.  No Drinks at all were consumed, had the Chap forgotten to offer us any?
This is still quite a young restaurant finding its way.  One hopes they do not put people off with such slow service.  However, for those who persevere, the rewards are worth the long wait.
An elegant sufficiency
The six of us each polished off our Half Kilo of Lamb Karahi.