The end of the vacation is nigh, but not yet…
Steve and Hector were having a quiet Bier in Helensburgh when the Bier became warm.  'Shall we go up to Glasgow, Curry?'  asked Steve.  He knows the rule…
An hour later we were at Café Salma (523 Sauchiehall St, Glasgow, G3 7PQ) both ordering  Lamb Lahori Karahi, one on-the-bone, one off.  Veggie Rice, Mushroom Rice and the classic Garlic and Coriander Nan were the accompaniments.
We were asked if we wished the Rice to be Hot?  This is new.  I am glad to see that Rice is becoming regarded as an integral part of the overall flavour and experience and not just something to stop the Curry running off the plate.
Being an impromptu Curry-Heute, the usual camera was not in my possession and so the phone had to be employed.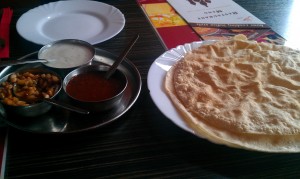 The Complementary Poppadoms and Onion Chutney/Raita appeared before we could draw breath.  (Why do we have to pay for this elsewhere?)  Then the highlight of the day, apart form the Curry itself, was a familiar head surfacing from behind the counter.
Hassan was around the counter in seconds and the warm greeting associated with one's arrival at Café Salma was restored.  He has returned from his month long vacation in Morocco, the homeland.
Superb
With over twenty Blog entries for Café Salma plus their dedicated page (above) there is little new for Hector to write.  This is one of the best Curry experiences, anywhere.  The richness of the Masala, the quality of the Lamb, the wonderful Veggie Rice, …  the magic ingredients which make up the perfect Curry experience.  Steve ate the Nan, …