The vacation is over, reality bites.  Time for a Curry-Heute!
The fres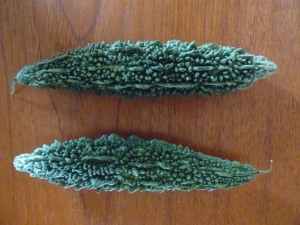 h Karela (Bitter Melon) bought at the weekend was to be the new experimental ingredient.  Having removed the jaggy exterior, the seeds along the centre were prized out.  The sliced Karela was then salted and left whilst the Masala and Lamb were prepared as in the Recipes above.
This was a quick brew and after half an hour the Karela, Mushrooms and Potatoes were added.  To ascertain the impact of the Karela, no Coriander was included. The Lamb could certainly have done with a bit longer.
Different
Hector did not manage to replicate the bitterness experienced at the New Karahi Palace where this Vegetable was first consumed.  The flavour was decidedly different from my normal creations, certainly not sweet, but I thought very pleasant.  Marg was non-committal but came back for more.
I shall be repeating this experiment again.