…and where is Dr Stan?
Hector texted Dr Stan mid-afternoon just in case he fancied a Curry-Heute. With the new term underway, time to restore the normal Friday rituals. The reply was a shocker: 'Just had Kofta Pallak at Cafe Salma, on way home to sleep.'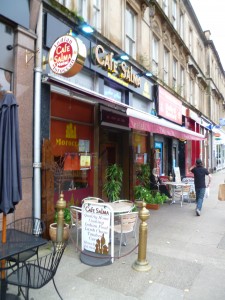 And so Hector was once again The Lone Diner at Cafe Salma (523 Sauchiehall St, Glasgow, G3 7PQ) until a birthday party took over the adjacent window seats.
Hassan was amused that Dr Stan had been there earlier in the day, he knew I would be along soon.
The thought of Spinach had been firmly planted in Hector's mind, Pallak Gosht (off-the-bone, medium, with a kick) and the excellent Garlic and Coriander Nan, for a change. The joy of Curry is that the array is vast, yet the root ingredients are standard.
Hassan sat with me for a while to chat and the Poppadoms and Onion Chutney were brought over. Two Poppadoms, on the house.
The Curry arrived before I had finished the second Poppadom, maybe just as well.
Tearing a strip off the Nan and dipping it into the thick black Masala is sheer joy. The salt content was high, the flavours blasted the palate.
A Rice appeared
No Rice had been mentioned but a plain Rice was set before me. Well, why not?
This meant defeat was certain, how could one person eat all this? One does not leave Cafe Salma hungry.
Perfect management
Hassan once again checked in at the table to establish all was well with the food. He has a new Chef in place this week who had his own ideas. Hassan was determined that the Curry would still be served to his specifications. In time they will establish what the new Chef has to offer that may be an addition to their range.
Buy one, get one free, with 32p change
The Bon-Accord was Hector's planned destination, but a text from Robin diverted me to Hengler's Circus where Jarl (Fyne Ales) was on sale at £1.49 a pint. Jarl was also on at the Bon-Accord where I met up with Dr Stan later.  Time for Edelstoff.