Why Aye, Man!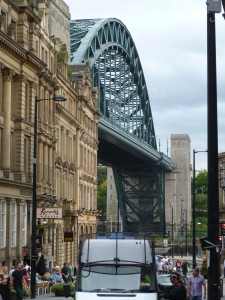 When Craig and Yvonne announced that August 20 would be our first ever day trip to Newcastle there was a silent shout of joy. A long standing work related distraction this weekend would be no more, shame. Bier of course was the primary objective (cf Bier-Traveller) , others were in charge of that. Hector's remit was to fit in a Curry at some point.
It is on writing this report that I take real pleasure in what this Website and Blog aim to achieve, genuine and reliable information. Hector had done the research, no Curry Cafes in Newcastle were appearing within the city limits. The most promising location required another train journey, no chance. Surely Newcastle has something to offer? They all win awards, don't they? The Spice Cube (The Gate, Newgate Street, Newcastle upon Tyne, NE1 5TG) was the most likely venue.
It was close to the station, allegedly. There was a buffet so nobody would go hungry. I had emailed them during the week to establish that the full menu would be available on a Saturday lunchtime. It was.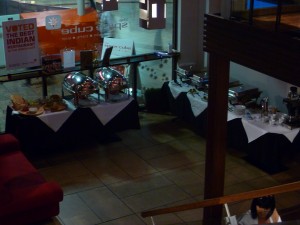 Mid afternoon
Hector was hoping to step off the train from Glasgow just before noon and march the troops for a Curry breakfast. This was not to be. HTC/Android maps were useless today. If I had chosen to go to South Shields all would have been well. Newcastle itself simply would not display on the phone. After some ten minutes the map acknowledged I was within the Newcastle area, accurate to 1600m. I still did not now where I was. The Forth Hotel opened just after noon and the best laid plans were put to rest. Two hours later we were all in need of food. Hector's phone map had improved its resolution but was still not accurate as to where we were. Howard's phone (same system) had us standing half way across a famous bridge. Tracey asked a local, ancient technology. We were now no more than a hundred metres to the shopping complex in which Hector believed the Curry House to be sited. The Glasgow Xscape is quite a complex, this was along similar lines. Upstairs, opposite Nandos lies The Spice Cube. Winner of the Curry Chef 2010 (Newcastle and regional), and winner of the 2010 British Curry Awards, the place had pedigree. Hector has yet to win an award. We were seven, five ordered the Buffet. Craig, the Man, opted for a Lamb Tikka dish from the main menu.
Choo Choo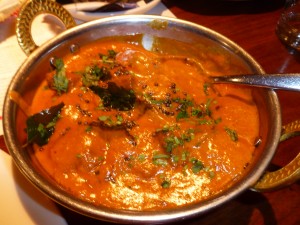 The Indian Railway Lamb Curry is what attracted me most to this venue. 'As it unusual name suggests, this exquisite dish was prepared and served in only the 1st class sections of railway canteens and cabins in the days of the Raj. With the tenderest pieces of Lamb gently cooked with baby potatoes in a curry leaf, onion, and mustard seed gravy finished with yogurt, this truly is a dish fit for an Indian cuisine connoisseur.' One of Hector's ambitions in life is to experience an Indian train Curry at Source!
Hector was determined to have the best Curry possible.
'What is your best Lamb Curry?' I asked the Doris. She alerted me to The Indian Railway Lamb Curry! I enquired about the use of the word – gravy – she assured me that this was a dry Curry. 'I do not want Lamb swimming in Soup.' I told her. Again she assured me this was not the case.  Doris even offered to exchange it if I was not happy. With five others already munching away at the Buffet Starters this appeasement was within acceptable parameters.
The Buffet Chicken was the only meat on offer. No Lamb Mince as the website had suggested. Those who indulged returned to the table with copious prawns/shrimps, always a good sign.  Those who had the Buffet did not complain at the time.
There were mutterings afterwards.: 'nothing special, bland, very ordinary.'  Did Howard and Tracey really order an extra dish of Chips and Cheese?  The food was clearly fresh. The Friends of Hector ate until satisfaction had been achieved.  Hector asks where was the listed Keema Curry?  Tracey squeezed in a Chai which she delighted in, momentarily.
No Bread was available in the Buffet. When the main courses arrived, two baskets of sliced Nan were presented. This was so late, the Buffet Diners thought it was not for them.  As was the case in the Verandah (Edinburgh) last Saturday, Hector believes the Chefs only cut their Bread into portions to mask the fact that not very much is their norm. The Nan Bread was far too sweet. Craig's Lamb Tikka arrived first. No Rice, he had not asked for any, and a tiny pot of something wet was the accompaniment. He thoroughly enjoyed this. The Lamb was dry, virtually no Masala, the Bradford style, or even Crawley as Craig reminisced.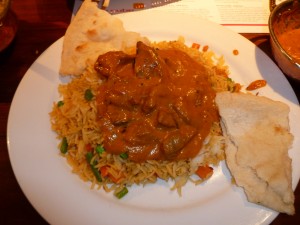 Then there was Hector' Curry… 'Am I back in Haarlem?' was my immediate thought. A metal bowl of Lamb in a classic Tikka Masala type sauce was presented. 'No gravy?' Aye right. This was  not what had been described. The Curry Leaves did provide respite. Onions? Where? This Masala was so thin the Onion must have been walked past the pot. The yogurt was decidedly overplayed. Indeed, had I ordered Chicken (sic) Tikka Masala, then this is exactly what I would have expected.  This was indeed Lamb swimming in Soup.  I was not sending it back, there was hunger.
Indian Railway Lamb Curry?
Hector does consider himself to be something of an Indian cuisine connoisseur.  Hector has seen the travel programmes where the Chefs aboard train cook wonderful creations. That is authentic. What was set before Hector was basically a joke. 'The days of the Raj' the menu cited. Hector knows that the fabled Tikka Masala style sauce was invented at the Shish Mahal in Glasgow some forty years ago. 'The days of the Raj?' I doubt this very much. Hector's Curry had a little kick, a modicum of flavour, was far too sweet, Coconut must have been included… Oh, they did warn the Curry might contain Nuts.
This is their best Curry? I came all the way to Newcastle to eat this?
The Bill
£72 with five people having the £8 Buffet. Does one tip at a Buffet when one serves oneself? We did.
The Aftermath
On our way to the next venue Neil emailed to say that The Spice Cube looked the best bet for a Curry in Newcastle. Oh how the Internet can mislead, or is this indeed true? Hopefully, the good Chefs of Newcastle will be alerted. Our group will be back, the Bier was good. There must be somewhere on Tyneside where the Asians go to eat.
The Friends of Hector are keen to return to Newcastle but it will never be to The Spice Cube.
Maybe it will be one these places?