With Dr Stan indisposed, Hector was very much the Lone Diner for this Curry-Heute.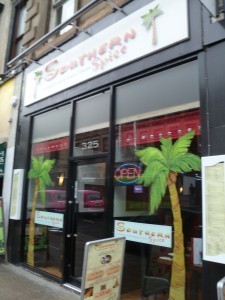 The lights were on but nobody was  home when I entered the Southern Spice (325 Sauchiehall St., Glasgow, G2 3HW) shortly before 18.00.   Whilst perusing the menu, a Chap appeared from the basement.  Fish Chettinad was what I had in mind.  There was Lamb and Chicken versions mentioned in the menu but not Fish.  Under the banner of Seafood were the Fish dishes, strange.  The waiter pointed to two Fish dishes, I chose the one without the Coconut.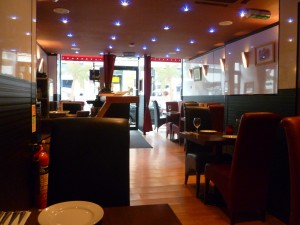 I balked at the price of the Vegetable Fried Rice, £5.25!  How on Earth could they justify this?  Anyway, I ordered this presumably Gold Plated Rice Bowl.  The Kerala Fish Curry was £10.45, but I was in the heart of the city and Fish is more expensive than Lamb these days.  Again something I find difficult to fathom.
I was wondering if there was anyone else in the building for quite a while until I heard a conversation from downstairs, so there was a Chef.
The meal did not take too long to appear.  With the photographic ritual out of the way I tucked in.  The Masala was on the thin side, the Fish portion was certainly ample.  The Rice was enough for two people to eat, I knew from the start I could not eat this much Rice.  The vegetable content was nothing special and the Rice itself was simply Turmeric stained, not the magnificent Biryani like creations served in the Curry Cafes across the river. A waste then.
 Hector fancied a change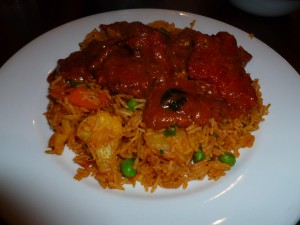 South Indian Curry is markedly different from the normal Punjabi/Bangladeshi fare served in this city.  There was a strong flavour of Black Pepper and the red Chillies were doing their aromatic best and adding more heat too.  One rapidly concluded that these are not really edible; the tough exterior does not lead to easy digestion.  The abundant Curry leaves also added their unique flavour to the dish.  This was thoroughly pleasant.
 I ate alone, in silence.  Only after I had finished did the waiter approach me to ask if I had enjoyed the food.  I told him that the Indian Mango in München is my yardstick for Fish Chettinad.  Nothing has ever come close to that, but I cannot make any negative statements about the quality of this Curry.
 The Bill
£17.25.  At least the Sparkling Water was priced within acceptable parameters (£1.55)  and so the hit was not as much as I feared.
The Aftermath
The lingering aftertaste was proof that I had eaten an above average Curry.