The bones were creaking, the throat throbbing, there was only one thing for it, a Curry-Heute!
Shkoor, Mein Host at Yadgar (148 Calder Street, Govanhill, Glasgow G42 7QP) was texted and the order set in place.  The Flu symptoms were not going defeat this commentator.   Hector would again dine alone, Dr Stan has been laid up with Flu-plus for the last ten days.   With boredom in place, he may even be reduced to reading about Curry, even this Blog.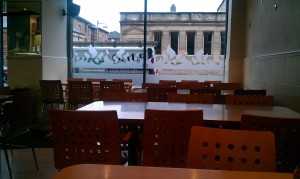 I took my seat, there were three other diners at two tables, the Carry-Out business was in full flight.  Shkoor came out from the kitchen to give me his customary greeting.  I described my plight.  People don't really expect anything but fine when they ask how one is.  Hector has never understood this ritual exchange.  I know someone who says fine – fine as he asks the question himself.  I digress; it must be the rising temperature.
The complementary Poppadoms, two of, with the chunkiest Onion Chutney on the planet were soon presented.  I was now worried about doing the meal justice.  Ten minutes later I would have welcomed my Curry, but suddenly another platter was set before me: Chick Peas, Chicken Pakora and a rather posh Side Salad.  The latter has certainly evolved into something attractive in the last year or so.
The remaining Poppadoms were removed, and Shkoor offered to make a Doggy Bag for this new feast.  I like Chick Peas when I do not prepare them, this was cool and refreshing.  The Chicken Pakora was blow your head off – hot!  Chicken in Batter, nothing else was evident, how did they do this?  I ate the lot.
Later than I had anticipated, the main even arrived: Lamb Karahi (on-the-bone), Vegetable Rice and a Chapatti.  How on earth could I eat all this now?
The Vegetable Rice is as always a treat in itself.  Potato, Peas, Mushroom mixed in with Rice that owes more to Biryani than Plain Basmati.  The Chapatti was exactly what a Chapatti should be, none of this Edinburgh rubbish.
The Curry
I have always meant to have something different at Yadgar.   I have never strayed away from the Goshat Karahi, but that is not what I ordered today.  This was different.  Was it because Mr Shah was not on the premises?  I know not, but this was not my usual fare.  The Meal was darker than the norm.  This could be a comparison based on the very red Curry I had last week in Clydebank.  The Masala was not the dry thick way I usually ask for, but I had not asked for that.  This was how I would like my Nahiree to be served. Perhaps this was not the best Curry I have ever been served at Yadgar, but it was different and it did have the underlying distinctive Yadgar flavour.  This Curry was still light years ahead of most Glasgow outlets.
Less than half the Chapatti remained at the end of the meal, a modicum of Rice and a pile of Bones.  Hector had been sated.
The Bill
I cannot disclose the Bill as I only know what I  paid, and this was nowhere near enough.
Shkoor is happy to have Hector come and eat his Curry, he knows it is loved and he knows that yet another web page will appear raving about the quality of the food served here.  Let us hope this symbiotic relationship will continue for many years.  We need a Yadgar t-shirt, I trust people have Googled the definition of  Yadgar?