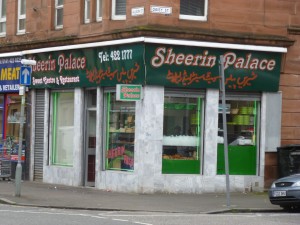 With Scotland doing their best to avoid embarrassment at Hampden Park, Hector entered The Sheerin Palace (300 Allison St, Glasgow, G42 8HQ) just a kilometre down the road from Mount Florida.  This Curry Café on the Southside was much quieter than the aforementioned arena, half the price of a ticket to the Footay, at least, and more certain to provide satisfaction.
 Three lads were waiting for their order as I sat down at the table I have occupied on my previous visits.  Another Chap was tucking into his dish and two Asians of the other type were finishing their meals.  The presence of the latter suggests that this place is certainly on the Glasgow Curry Map.
At the counter I asked for a description of what was on offer.  Lamb Curry with Potato, Kofta with Egg, Chicken with Spinach, Okra, Lentil and something else I couldn't fathom were the choices.  I hadn't clocked the Kofta Egg until my departure; my eyes were drawn to the Aloo Gosht automatically one assumes.
There was a platter of Rice with Chickpeas piled high on the counter, some of this looked appealing.
 It serves me right
Kenny Miller had just put Scotland ahead as my meal arrived.  This was most certainly the high point of the day.  The Rice portion was massive, two portions at least in any other outlet.  The Chickpeas made it interesting.  I came to realise that Rice was the wrong thing to have ordered.  The Chap opposite had just received an additional Chapatti for his meal; this is what Hector should have ordered.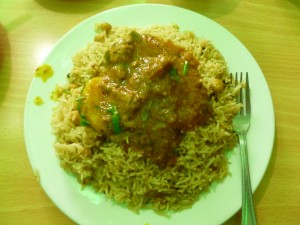 The Lamb was presented in the classic 1960s style Masala, thin, red and oily.  If there was an Onion base, this was minimal.  Hector had nothing to dip.  The flavour of the Masala was therefore lost, totally.  As I spooned the Lamb and Masala on to my Rice the liquid was absorbed completely.  This enhanced the Rice that had been coated, alas with the sheer quantity of Rice on the plate this left a lot that was quite plain.
The Lamb was fine, not outstanding.  Worried that my taste buds were still not fully functional after yesterday's Flu, I had ordered a bottle of Coke, this tasted normal.
The Bill
 £9.00  At this price one could almost afford to eat here every day.  The venue is cheap and cheerful, nothing flashy at all.  Note, Marg has never been.
Why Part 1?
Hector had chosen the blandest of meals from the selection on offer.  I cannot write a report on the Sheerin Palace and leave it like this.  The Sheerin Palace serves much better Curry than the one I had selected today.  I therefore resolve to return soon.  The Kofta Egg is calling, that is unless the Quails are back.