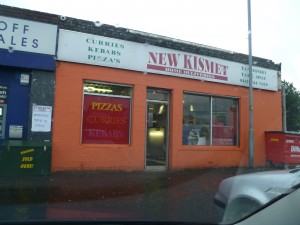 Some twenty years have passed since Hector last set foot in these premises.  By road it could well be the closest source of Curry-Heute to Hector's House.  The New Kismet (311 Drumry Rd, Drumchapel, Glasgow, G15 8PA) is just across the border from Clydebank.  The fact that such a long period of time has passed says much about the previous experience
The reason for my return?
 There was a chance conversation with a chap working at Café Serena who said this is where he normally worked.  I had to try it.
 As with most Take-Away houses these days, the ubiquitous Donner Kebabs and Pizza occupied about half of the menu.  The Lamb Karahi was available, so what better dish to judge this outlet?  Two Chapattis were the accompaniment, this would reveal the full flavour, if any, of the Curry.
 Whilst waiting for my meal there was a horrible moment.  The young Chap who handled the money also put his uncovered hand into the grated Cheese bowl to spread on a Pizza.  Is this allowed?  Most people wear gloves these days… Hopefully he would not be coming in contact with my order.
 The Bill
 £8.10.  I could have ordered a Tea-Time Special deal but probably would not have secured the meal of choice.
 Hector's House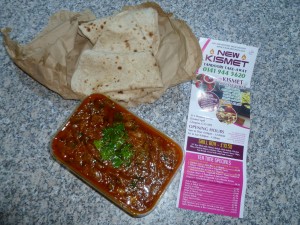 Would this just be a Clydebank Curry variant? The portion looked more than adequate when the cover was taken off the container.  The Masala was not red, there were copious Onions evident.    The Masala was also quite Oily.  The fresh Coriander generously sprinkled on top was a positive feature.  Was that a piece of Capsicum?  The two Chapattis were large and on the chunky side.  Hector was by now filled with great optimism.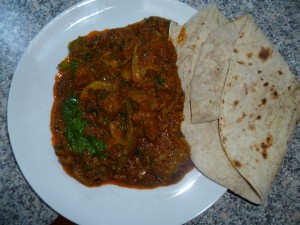 The first taste did not disappoint.  The second was better.  The Lamb was on the tough side but the proper flavour of Lamb was evident.  The Masala was very good indeed.  Some would welcome this if they ordered Dopiaza.
 I pulled out a piece of Capsicum, and then another.  How much was there?  Far too much was the annoying conclusion.  This rogue vegetable was not listed in the meal description.  I piled it up on the side of the plate.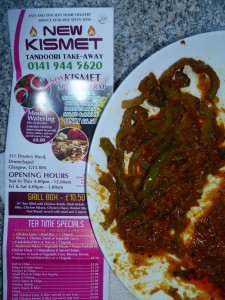 Capsicum (set) aside, I thoroughly enjoyed this Curry.  I cannot give it super status, but I think I will certainly visit the New Kismet again, before twenty more years pass.