Lord Clive had contacted Hector during the week to ascertain if there was a Curry House in Harlow of note. The best report I could find was at an outlying address. Pot luck was my verdict. Clive knew that Maggie would drive us to a worthwhile venue, so having collected Hector at Stansted and checked in at The Green Man (there is no truth in the rumour that this is a down at heel, celtic establishment), we sped off in the darkness to the award winning Essence of India (Oasis Hotel, 2 Hart Rd, Old Harlow, CM17 0Hl, Essex).
Hotel? We gave that the body swerve
 The hotel appeared to be more Chinese Restaurant. We were greeted as we entered, in fact in the car park. The venue was attractive, well laid out, draught Bier on offer and the the inevitable two coloured table cloths. This place was at least trying to look better than others have described it online. This is now, no problem with the ambience at all.
 The drinks menu was on the table at the window as we squeezed in. Well Clive had to squeeze in. Has he put on more pounds of late? Too many Olives?
 Mein Host was soon upon us. The menu was complicated, too many Specials? There was an extra laminated sheet of Specials. The Lamb in all of these was Char Grilled. This sounds too much like like Lamb Tikka for Hector's comfort, where was the regular Lamb?
 I gave my description of the Lamb I sought: dry, not soup….Mein Host was straight back with the Mithali Mossala. This also happened to be the cheapest meal on the lengthy Specials lists. He offered to change it if I was not happy. This was good enough for Clive who jumped aboard.
Lady Maggie stuck to her guns and ordered the Lamb Dansak.
Many Rice
One Pilau, one Mushroom and one Vegetable Rice were the accompaniments. Clive sneaked in a Keema Nan. The time was budgeted, The Green Man shut at 23.00, it was already after 21.30 when Hector put a pint of Cobra to his lips. First Bier since last Saturday, the joy of being Professional.
Maggie's Curry had a wonderful rich, brown hew. She thoroughly enjoyed the meal save the fact that she found the Lamb to be on the tough side.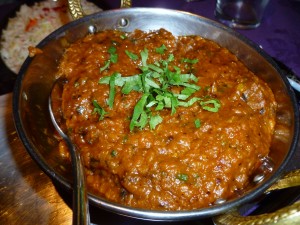 "Full of flavour, lovely consistency, Meat needed to be more mouth watering. The Rice was great, I would have licked the plate."
As Clive had the same main meal as Hector, there was no need to bother him for a quote on the Curry. We both like exactly the same thing. His Keema was pronounced to have "a wealth of Keema."
Hector's Curry Heute #2
OK, I was spoiled. My lunchtime Kofta Palak is one of the most flavoursome Curries served anywhere. Better than Mr Holden took me to sample in Bradford. So, the Essence of India was up against it. It was seven hours since my last Curry exhilaration.
The Curry was a bit on the red side. The Masala was thankfully not soup as I had made clear I did not want. (are you reading this in Newcastle?) There were evident Bay Leafs in the Masala. A significant piece of Cinnamon Bark was also contained therein. Green Cardamoms were to the fore. There had been a clear attempt at producing a genuine aromatic Curry. As I ate the dish some of the individual tastes emerged.
The Vegetable Rice was something else.
Butter Beans, Celery, Peas, Potato and fresh Mushrooms. I have rarely had such an impressive accompaniment. This makes a meal. Some Curries as I know to my cost are better without Rice. This was the perfect complement to the dish presented. What I did not get was an overwhelming, this is wonderful, sensation. 'It was alright' was my callous judgement on completing the meal. The meal was actually much better than this. The meat was certainly on the tough side which was a negative but the blend  of what was presented was certainly worthy of praise. A mainstream Curry House had tried to present a piece of home cooking. Maybe if it had sat overnight in the pot it would have notched up a few more taste decibels. (That is a new phrase, please note: Harlow – new nomenclature.)
The Bill
 The total was under £40 and this included four Cobras. This was good value.
 The Aftermath
Mein Host had clocked the photo diary being recorded. He then joined in and took the group shot. (Who is that expanding guy in the blue t-shirt? So much for the new gym regime.) I told him about a certain website.
If we were not happy he would change it.
This was a genuine offer as it was repeated halfway though our eating. He accepts he is a mainstream restaurant, so perhaps should not be judged too harshly. Whilst paying the bill, Clive suggested he open a branch in some lesser named Spanish resort. I think he should move to Belgium and embarrass every Curry House in what remains of their nation.
This was a thoroughly pleasant visit. We were made very welcome. It was an accident of Geography that took us to Harlow this evening. Maybe on the equivalent weekend next year, Mr O'Leary or Stelios will provide a usefully timed flight on a Friday evening out of Scotland to Rheinland Pfalz or Nordrhein Westfalen.