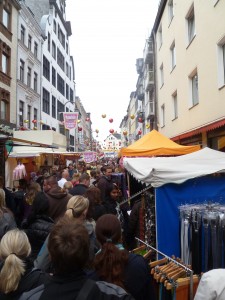 Hector found himself in Köln for the afternoon en route home from the Wolf Strassenfest.  There was another Festival taking place in Severin Strasse today in Köln Sud.  Lord Clive, Maggie and I fought our way through the crowd from Früh am Weedel to the Reissdorf outlet  Zum Altes Brauhaus.  Today's Festival is the Severinsviertel Fest.  This meant that Severin Strasse was simply wedged, so was Reissdorf.
This was good news for the Indian Curry Basmati House (Severinstaße 40, NRW, 50678) who had their dishes on display in the street outside their premises.  I took my seat inside at one of the three small tables at the door.  The larger tables to the rear were basically full.
On studying the menu I decided to try something different once again.  The Lamm Labra was to be Hector's dish of the day.  I could see that Spinach was featured but as Saag was also on the menu I deduced that this would be less extreme.  Other Interesting Vegetables were also listed, Ingwer I now know is Ginger.  Split Peas, Green Beans were part of this creation.  As only Plain Basmati is on offer, this would satisfy my desire for diversification.
Whilst waiting for my meal, I could not help note that every person who passed the premises looked at the dishes on display and then looked into the Café.  A few stopped to buy Takeaways. some came in.  This was a busy day for the Chef.
 The Doris brought my meal and glass to go with my Sparkling Water.  There was more than enough to fill.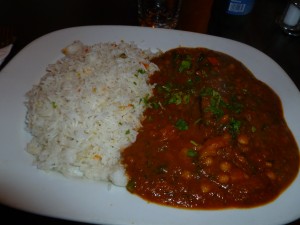 This venue does not make Curry to rival Glasgow/Bradford, but in terms of a Deutsche Curry this is up there with the best.  There is a unique flavour which I cannot identify; perhaps it is the direction of Cinnamon?
I took my time, and savoured the moment.
The Bill
 €10.  Or £8.70 at the present rate of exchange.  Not a table cloth in sight, great Curry at great value.
 It will be three months until my next visit, I shall certainly be back.