There are only two days of September to go, Hector may squeeze in a final two Curries this month. This was expected to be a very brief report, Hector was entertaining overseas customers. This is the only tax deductible expenditure I recall from Tax Law many years ago. Actually Di and Derek are from Aviemore where there is no Curry. They were pleased when I suggested Indian Food.
We were the first customers of the evening at the Akash (45A Sinclair St, Helensburgh, Dunbartonshire G84 8TG ). Starters were waved and three soft drinks ordered. There were no Complementary Popadomms or Chutneys.
I made one or two suggestions for the visitors whilst I searched for the Curry Alan and Tracey had ordered on my last visit. They had the Chicken version, well they would. Lamb Makhini with Spinach was verified with Shuel, Mein Host. Derek went for a Lamb Bhuna and Di a Chicken Tikka something. She was concerned it might be too hot.
Three Rice were ordered, Hector ordering the reliable Vegetable Rice.
The food came in good time and Hector recognised the Yoghurt based and Cheese covered Masala. This looked thick and most appetising. Regular readers will know that Hector's previous Curry was the Lamb Karahi Methi at Bradford's International. That I described this as probably the best Curry I have ever eaten. It is perhaps fitting that this was followed by the venue where I have eaten the most Curry, ever, by far!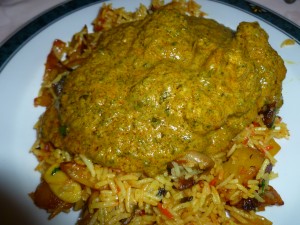 This Curry was excellent! I have written before that I have found all of the Akash Curries to taste much the same in recent years. Maybe there is a new Chef, Shuel gives nothing away. The Cheese gave the Masala a new dimension, a heavy one. I know someone who will be down to Helensburgh as soon as to sample this. Where was the Spinach? – this is my only question, perhaps the subtlety is what made the dish. Actually, this is not a subtle dish. I would recommend no Starter prior to this, especially if the very satisfying Vegetable Rice is the accompaniment.
The guests enjoyed their respective dishes. Given their limited exposure to the king of all food this is not surprising.
The Bill
£31.90. This was for three soft drinks, three Curries and three Rice, not bad at all.
The Aftermath
A very entertaining evening at the Victoria Halls, Helensburgh.