The last two solo visits to Café Salma (523 Sauchiehall St, Charing X, Glasgow G3 7PQ) were the build up to this splendid evening.  It was announced earlier this year that possibly the finest Independent School in the West of Scotland would honour Hector's thirty years of service with a commemorative dinner.  Al, the Depute was put in charge but it was simpler for Hector to do  all the organisation.
Café Salma was chosen not just for the outstanding quality of the Curry but the fact that the downstairs venue could be taken over.  We could have a private meal in a public place.  The ambience downstairs is perfect and as the guests arrived they were thoroughly impressed.  This was a significant breakaway from the usual Helensburgh hotels where such events would normally be held.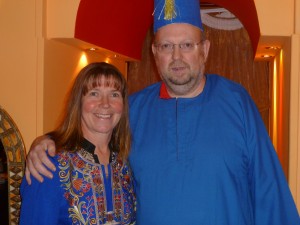 From our earliest visits to Café Salma we always enjoyed the atmosphere set by the staff wearing African dress to highlight that this is also a Moroccan restaurant.  'One day we will come here and wear our own costumes.' I remarked to Marg some time back.  Tonight seemed a perfect opperchancity, it brought a smile to everyone's face as the emerged from the foot of the stairs into the main room.
With last minute call offs and two late additions, Hassan did well to cope with the order.  Last week he was given each person's order and it was agreed that we would spilt ourselves into three tables and each would be served in turn.
Some were early, some were late, and we were all sat and tucked into the complementary Poppadoms and Chutneys by 18.50.  Marg, sitting at The Friend's of Hector's table was served first.  The table entitled La Maison de Toutou was next and finally Hector's Table complete with past and present colleagues.  We were thirty-one diners in all.  Quite a logistical task and far removed from the normal choice of three Starters or three main courses served at a hotel function.
I had recommended the Prawn Puri to quite a few colleagues as they had never tried one before, this went down well.  The freshness of the Pakora was remarked upon.  Hector had Kofta Palak as a Starter, this was brave as I did not know how near a full portion I would receive, it was the full portion which came and I managed to suggest that others try this magnificent creation.
The Lamb Lahori Karahi IMHO is the signature dish of Café Salma.  This was the main dish ordered by those who know their Curry.  Some who actually like Capsicum in their Curry had the Punjabi variant.  There was the milder Makhani and other more mainstream Curries ordered by those who do not live in the Curry scene.  Anthony took the opperchancity to sample proper Moroccan food , the Tajine, and not the Vesta variety.  Five portions of Ravi Machi, the Fish Curry, were served tonight to great acclaim.
Never have I seen so many Garlic and Coriander Nan, there was minimal debris left at the end.
All bar one were thoroughly impressed by the Café Salma experience, and having been before one suspects that the mindset of that person was immovable.  Nicki has told me that she will now have Lamb Curry having tried it for the first time; Eleanor too may have had her last Chicken for a while.  Chicken?
The Presentation – Welcome to the inaugural meeting of the Temperance Society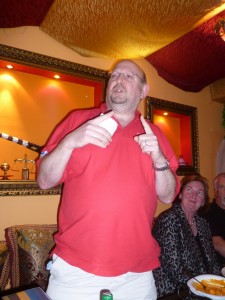 In addition to presenting a quaich, Al made a wonderful speech highlighting the sheer professionalism of Hector in the workplace; he did forget to point out that in thirty years of service Hector has never phoned in sick.  Hector's speech went down well despite being delivered at a very fast pace, the Biers were calling.  Yes, this was the first ever presentation dinner in a dry establishment.
The Bill
Hassan stated that he had lost track of exactly what had been served and put it to us that we should pay what we thought was due.  £20 per head was my ball park figure when the details were announced, this was accepted, and Hassan was a very happy man at the end of the evening when the cash was piled high.
The Aftermath
We retired to the Bon Accord where Russell had promised me Harviestons's American IPA, this was quaffed quickly before moving on to Augustiner Edelsftoff, my normal Friday night treat.  We managed to occupy much of the raised area at the rear quite comfortably.  A Buffet was ordered for 22.00, which was put back to 22.30.  By this time the numbers had dwindled and we were all still stuffed.  Whose idea was it to order a Buffet?
Thank you
My thanks to all those who made the effort to leave the coastal resort town and travel up to the big city.  Perhaps in five years something similar will be held again, but in the meantime the plan for another mass trip to Traben-Trarbach has been hatched.
And Finally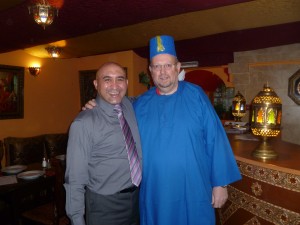 My thanks to Hassan for making the evening possible.
As we left Hassan invited Marg and I to dine at Cafe Salma next time as his guests.  I think we made his night too.