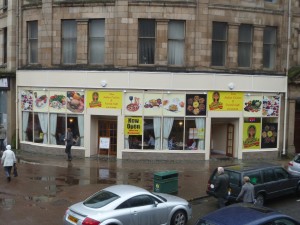 It was Eleanor,  a historian, who informed Hector of the existence and the location of Mama's Rasoi (82 Howard St, Glasgow, G1 4EE).  Let the Geographer describe it as being on the wrong side of the tracks; outside the St Enoch's Centre, but on the south side.  This is a part of the city which people traverse by bus or when queuing to access the St Enoch's car park.  Few people actually walk along Howard St.  It was no surprise to find a staff member handing out flyers to the few who did emerge from the St Enoch's Centre on the wrong side.
The last time Hector entered these premises it was a rather excellent vegetarian café/restaurant.  It has changed hands many times over the years so I wish these guys good luck.  Glasgow needs more Curry Cafes, and a centrally placed one like this will give a kick up the proverbial to the overpriced, table-clothed, staid venues.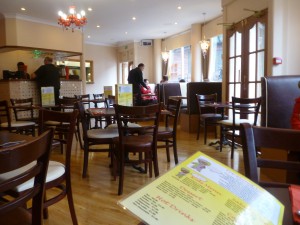 There were a handful of diners as Hector entered shortly after 14.00.  The bright yellow laminated menu caters for all tastes Curry or not.  As Mama's Rasoi  opens at 08.00, they serve British breakfasts, I wonder if anyone has ever asked for Curry this early.  On my Sri Lankan trip, even I could not eat Curry for breakfast.
It was Jack, the front of house partner who served me.  I knew this because I had time to access their website and discover more about Mama's Rasoi.  The Chef JD once cooked for the Indian Prime Minister.  So this is an Indian Café then.  Jack sounded as Indian as I do.
There were four Lamb dishes on offer, all priced under £5.  The Lamb Desi Curry seemed a logical place to establish what this place can do.  Chapattis felt like the perfect accompaniment, Jack suggested I have Tandoori Chapattis, so I did.  This was a good recommendation, they were excellent.
The Curry did not take too long to arrive.  My initial reaction was one of major disappointment – a plate of Soup. Hector prefers a thick Masala.  I could have gone for the Bhoona, but the website menu suggested Peppers. The Lamb pieces were cut quite small, there was not that many of them.  I suppose at £4.95 this is more of a Tapas portion.  The bottom of the pot revealed a thicker Masala, and the flavour of the classic Indian curry/mustard leaf infusion.  This dish was much better than I originally thought.  The aforementioned Chapattis were the perfect accompaniment.
Hector the Inspector
Jack had spotted me taking the photos.  He asked if I was a tourist.  I told him I would tell him more after I had eaten.  And so Jack and I chatted for some minutes, I gave him the calling card and showed him the website.  I wonder if Jack's spontaneous nomenclature will catch on.
The Bill
£7.90.  This included a half litre bottle of Sparkling Mineral water.  I felt I had eaten enough.
The Aftermath
Having spotted Palak Paneer on the menu, I know someone who may make a beeline to Mama's Rasoi.
For a quick snack this place is good value, I hope they get the foot fall.  It is only a few steps from the Hootenanny, what sort of name is this?
The Take Away Menu
 The Take Away Menu is much more extensive than what is on offer in the Café.  With prices typically around the £8 mark, one assumes that these will be full portions.  Lamb Kofta Achari sounds appealing.  There is a Chicken Chettinad but no Lamb version apparently.  The Fish menu also looks enticing.
A Question
The question has to be asked: why have such an extensive Take Away Menu and such a minimalist in House Menu?