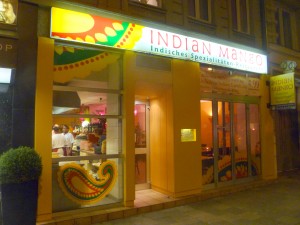 The approach to Indian Mango (Zweibrückenstr. 15, 80331, München)   was tinged with a slight nervousness. John had reported the place shut on his two attempts at securing what could be the finest Curry House in Deutschland, earlier this year. Hector had phoned, no reply. Hector had emailed Mr. Jolly, no reply. The lights were on, we were in business.
There were two young waiters this time and the Chefs also looked different, they are very young too.  19.40 was Hector and Howard's ETA from a swift visit to the Forschung Brauhaus. Craig, Yvonne, Juliet and Steve – the man who discovered Mango, were all due imminently. Howard and Hector had soft drinks whilst we waited. This wonderful Curry House does sell Bier, but we were here for the Curry.
The Spezial's Board was gone, in its place was a laminated additional menu. The Fisch Chettinad would be Hector's meal of choice. This was from the Spezial menu and at €14.90, not a cheap option. Howard had the Fish from the normal menu as did Craig. Steve opted for the Lamb Vindaloo, Yvonne the Bhindi Gosht, and Juliet the Chicken Jalfrezi. (Chicken!?) Two Roti and a Nan were also ordered.
The wait was considerable, were they waiting for the Fish Eggs to hatch? When the dishes finally appeared it was the Rice Bowls which were presented first. This is a departure from our normal Mango experience where Curry and Rice are served on the plate together. The quantities of Rice were copious, indeed we amassed an extra bowl.
The Fisch Chettinad at Mango is indeed one of Hector's all time favourite Curry experiences. The Masala and the Fisch are as one, not dry but certainly not Soup. The flavours are exquisite and the Coriander stems give a slight gritty texture. Howard and Craig, the other two Fish eaters were also marvelling at their meal, but Hector knew his was Spezial…
Yvonne learned tonight that Bhindi is in fact Okra. She thoroughly enjoyed the experience and discovered that Okra could minimally is very pleasant, not the slime she usually is presented with when Hector reheats the vast Curry Pot at a Barrel Party. Steve and Juliet also enthused about their respective Curries. This is a very special place. If there is a better Curry Haus in Munchen, please tell us where.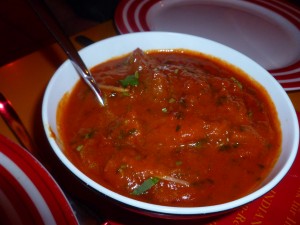 The Bill
€79.90. Between the six of us this was perhaps dearer than we would pay for the equivalent at home, but then Sterling has gone down the pan. They could charge what they like at Indian Mango, I would still pay it.
The Aftermath
I gave my calling card to the young Doris who informed us that Mr Jolly was due on the premises any minute. Our shared enthusiasm for this venue was related. We could not hang about, the Festbier was calling.
There must be another visit to Mango on this trip – Saturday!