Having eaten the worst Curry-Heute in Bamberg at this time last year there was no way I would return to the Swarg. It is a short hop with a Bayern Ticket to Erlangen which boasts five Curry Houses, at least. DB are not having a good day today, well they did excel yesterday (cf Bier-Traveller). Everything is running twenty minutes late. So much much for my planned 13.00 rendezvous at Schlenkerla.
Hector finds a Curry House in a new town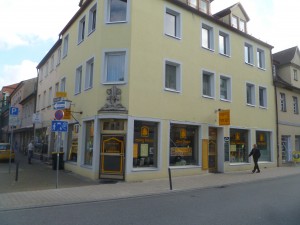 I have never been to Erlangen before today. There are a couple of Breweries (Kitzmann) here, but somehow Forchheim and Nurnberg always win. Nearest to the Bahnhof and most importantly open, lies the Curry House (Helmstrasse 11, 91054, Erlangen). This is in essence a Fast Food Indian Cafe. They advertise that they are open every day from 11.00 until midnight, perfect.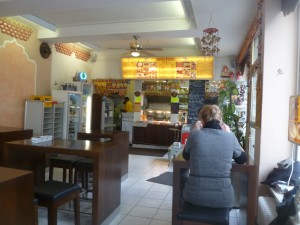 Having selected my table I realised it was approaching self-service. I glanced at the Board and then focused on the array of Curry dishes behind the counter. The Mutton was a stand out. I paid my €8.90 to the young Lady and the Chap started to spoon a very generous helping on to the plate. As is customary in Deutschland, the other half the large plate was covered in Boiled Basmati and then topped with a quarter Poppadom.
I took my seat and got tore in.
Karrah!
This is the Saltiest Curry I have ever eaten. ?Stan! would love it. Where was this place back in the old days when I used to cover my food in Salt? The Masala was a typical old fashioned, quite runny, Sauce, but the pedigree was there. I felt as if I had travelled back in time. This was going to be superb.
Eating this early in the day is quite an achievement for Hector. To eat this quantity was nothing short of miraculous. I counted the pieces of Mutton once I was halfway through the meal. I still had six large pieces of Mutton to go. It would be touch and go. The Lamb was so Tender, the Meat and the Masala were not strangers on the plate. This Curry had been cooked properly, the pleasure was all mine.
The Bill
€8.90, were you not paying attention?
The Aftermath
There was little time for discussion. There were five diners present when I entered, this figure had doubled when I left. I took my plate back to the counter and handed over my Calling Card to the Chef. I made positive noises in Deutsch and my Card was passed to the Fraulein who pinned it to the wall. We shall see.
The Menu is limited but covers the main array of expected dishes including Butter Chicken, so Marg will be brought here next time she comes to Bamberg. There is also a Mutton Spinach dish which will be the next Curry of choice, yes Hector will definitely return, this place can make Curry!