Hector's 'plane was not until 16.55. His three fellow travellers were completing their own rituals that are part of the farewell to München. Hector had Blogging to do and a Sunday brunch to eat. Sitting for a while in the adjacent Cafe Love it was matter of metres to Indian Mango (Zweibruckenstrasse 18, 80331, München).
Only Bert and the Twin Chefs were there this morning. Hector was not first through the door after the noon opening. Two other keen diners had beaten me to it. I was assured that at this time on a Saturday they are always full, but it takes until 14.00 for the masses to emerge on a Sunday.
The Fisch Curry was the choice of the day. I needed something light, I wanted to compare the straight dish with the Chettinad, and I was hopefully not expected to fly the 'plane.
My meal arrived within the blink of an eye. Fish does cook quickly I suppose. The Curry did everything I hoped. It lacked the texture of the Chettinad but the same distinctive Indian Mango flavours were still present.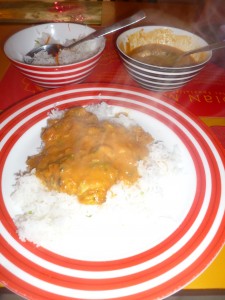 The Bill
 €8.95. No sides (Rice included), no drink, just a superb meal and my last opperchancity to dine here, for wait for it, four more weeks!
 The Aftermath
Hector flew home with Craig, Yvonne and Howard. Craig mentioned our normal Village visits after Marg collects us from Edinburgh Airport. Not today, Hector has been Mangoed.