The ubiquitous Hector is at a Halloween party this evening, as the Invisible Man.  This gives me the opportunity of slipping out and having something decent to eat.  The Akash (45A Sinclair Street, Helensburgh, G84 8TG) is too much of a temptation when I am stuck in Helensburgh of an evening.
The Lamb Makhini with Spinach has made Hector excited about visiting the Akash once more after thirty years of regular dining at this venue.  To think a few months back,  I actually contemplated visiting the other place on  the front which is known to be very poor.
The order selects itself:  the Chicken Chat here (always off-the-bone) has evolved through time but is always worth sampling.  One of the few times Hector has a Starter and risks not finishing.  It could be on these very premises where I had my first ever Vegetable Rice.
The Chicken Chat portion is impressive, a larger meat content than some venues serve in their main courses. Hot, Spicy, and balanced perfectly by the slivers of Cucumber.  I cannot resist this.  I have eaten this Starter more than any Starter in any Curry House.
There was not enough of a gap between courses this evening. The joy of the Chat was still on the front of the palate when the Cheesy Curry was set before me. This melange of Yoghurt rich Masala, topped with Cheese looks awful but has a unique flavour. I should have asked for it to be hotter.  The Vegetable Rice included Almonds which gave a worthy gritty texture, adding to the overall experience.
The Bill
£14.40.  Well the Chicken Chat is not free.
The Aftermath
Now who actually believed Hector was attending a Halloween Party?  It is the monthly RSGS talk night fortunately now relocated back to the Victoria Halls.  But wait, Howard is sending me a text, even Robin is flagging something…
Hector's Ale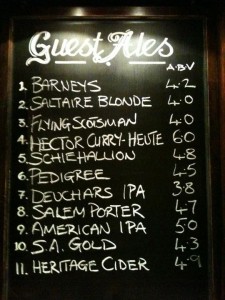 Being a Professional, Hector does not consume Ale midweek. This did not prevent the biggest wind up in the history of the Bon Accord. Thanks, Paul. This is the photo that was posted on Facebook/Twitter today. My own Ale and I was not there to taste it. Alas, John tells me it has gone…