This evening Hector and Marg were meeting up with the Virgin Claire, yes this was her first Curry.
From Queen St Station, Assam's (57 West Regent St, Glasgow, G2 2AE) was nearby and long overdue a visit. I have been on their website a couple of times and have been impressed by their self belief that what they serve is worthwhile eating. Such venues are not my favoured eating places, table cloths…
We approached the entrance, all was in darkness, the place was locked up. Hector's brain was conjuring up an alternate venue when Claire spotted the new location a couple of doors up the hill.
'No we haven't booked.' How pretentious is this? A Thursday night, 19.30, how many Curry Houses are mobbed at this time? We were taken to a table, I couldn't sit down, the young Doris was in the way.
The menu is minimalist, a good sign. I talked Claire out of Saag Paneer, this would possible put her off Curry for life. I suggested the Chicken Tikka Chasni, a sensible crossover from another nation's food style. I put it to Marg that the Butter Chicken should be sampled, there was compliance. This left the coast clear for Hector to have the Lamb Karahi. I asked for it to be hotter than medium. This caused the Doris a problem, 'hot' was the compromise.
A single Mushroom Rice and a Garlic Nan were the accompaniments, having spotted a Nan, one would be more than enough.
One portion of Pakora was ordered, this came quite quickly. The Pakora was flat, pattie style. I restrained myself, I was here to sample the Curry. The ladies enjoyed the Pakora but stayed clear of the Red Sauce.
Here comes the Curry
Would a single portion of Rice be enough between three? There was enough, a positive start. The Nan certainly was impressive in size, however I prefer mine to be more doughy, and wet-ish from the Garlic. This Nan was too dry.
The Lamb Karahi looked the part. Some pieces of the Dreaded Capsicum were present, but not many. I decided to ignore their presence. I dipped the Karahi, nothing. Taking a fork full of Lamb and Rice, still nothing. This was really bland. There was no kick, no apparent flavour, just blaaaand. Fortunately, after I had spooned more of the perfectly minimal Masala on to my plate, some taste finally emerged.
'Let us change your perception of Indian dining'
So says their card. Is this it, all they can do? The other two Curry Dishes looked like Plates of Soup, the antithesis of everything Hector looks for in a Curry, but then the ladies had ordered Chicken.
I was permitted samples of the Chasni and the Butter Chicken. The Chasni was full of flavour, but far too sweet. People eat this? Was it really Chicken Tikka?  I remain to be convinced.  Claire realised that she was eating Chicken served in Tomato Soup. The Butter Chicken was sickly, rich, maybe excessively so. Marg is right, a small Tapas size portion is more appealing. There was no kick. (Mother India's Cafe still produces the best Butter Chicken found in Glasgow.)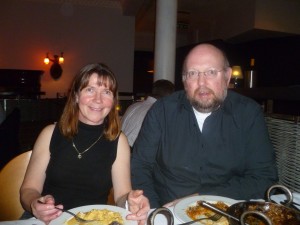 Marg had remarked on the size of the Chicken pieces. They were large, very large. Fancy having to use a knife to eat a Curry… well there was a table cloth.
The Bill
£57.40. There was a Starter, two soft drinks, two Ice Creams, two Coffees and one Tea. The Curry content of The Bill was well within acceptable parameters. Did I mention there was a table cloth?  No extra charge.
The Aftermath
The ladies loved the ambience. They enjoyed their meals. I kept waiting for the after-taste to reveal itself. Having had such little fore-taste this was not a surprise. Marg was happy that we had tried somewhere new. Claire asked if I would return. 'No' was the reply.
This was a very ordinary experience.  Hector's perception of Indian Dining was changed years ago, I have been to Bradford.
Bradford, the Curry Capital
What better time to congratulate the Curry Houses of Bradford for winning back the title of Curry Capital of Britain.  Glasgow has won it enough in the past decade.  I know that overall, Bradford sells  Better Curry.