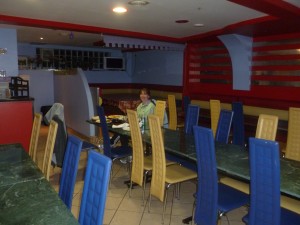 When Marg suggests we cross the river, Hector always suggests it's time for Curry-Heute.  The time had come to introduce Marg to the New Karahi Palace (51 – 53 Nelson Street,  Glasgow G5 8DZ)  and the delights of the Karahi Karela Gosht.  We entered @19.30, were acknowledged by the young host and then ascended the stairs to the Ice-Cream Parlour sorry, seating area. Two Chaps were seated at the window; a portable heater was located beside them.  It was an unseasonably mild day in Glasgow today.
The order was verified. An off-the-bone version of what Hector currently considers to be his favourite Glasgow Curry was procured for The Lady.  A single Mushroom Rice and Two Chapattis were the accompaniments.  More than enough Rice.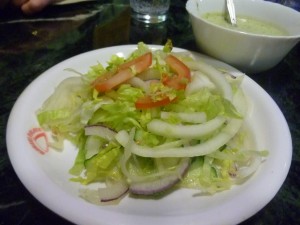 The Complementary Salad was not so tired looking as it has on previous occasions.  This was definitively not the one I didn't touch back in June.  For the first time I actually sampled it.  The Raita was not too shabby either.
Mein Host assured Marg that the food would be brought soon.  Marg had been primed that there would be a short wait.  Our suspicions are always raised when the main event is brought within five minutes of ordering.
After the ritual photos, permission was given to eat.  'It is salty!' was Marg's initial comment.  But this is Karrah, the Salt brings out the flavours of the Herbs and Spices was my answer.  The fact that Marg commented on the Salt content at least three more times suggests that this Curry was indeed salty.  It was, salty as salty as the Erlangen experience.
We assumed the Lamb was the source of this dominant flavour, then I realised it was the Karela itself.  Now I was told on the only occasion I have purchased this Prickly Vegetable that one assaults it then leaves it to sweat, this was indeed sweaty.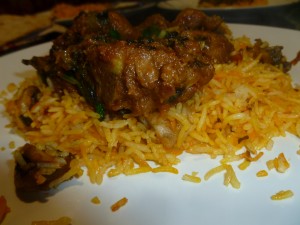 Hector ate to his satisfaction.  The portions are more than adequate.  As ever I was able to finish the end of Marg's boneless version too.  The presence of Bone certainly adds to the overall flavour.  However, this naked Lamb was damn good too; did anyone mention the Salt content?
The Bill
£20.90.  This included one soft drink.
The Aftermath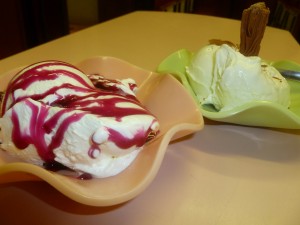 We retired to Byres Rd and the further treat that is Ice-Cream at the University Café.  Pure decadence.
München?  This should be the next Curry-Heute report, very soon.  It is the November Holiday weekend, good old St Andrew…