… but Dom has some Argy Bhaji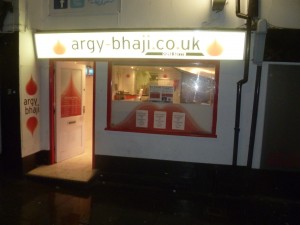 Wandering back from the Swan in Crawley, Dom insisted that we go for an Indian Takeaway.  With an early rise, as in really early rise for a 'plane to  München the thought of Curry sitting in the gut for the next three hours was not appealing.
For once Hector refused a Curry-Heute
The event is posted because I was there.  The Chaps serving had a great sense of humour and most importantly they claimed to hail from Bradford.
Dom took the food back to the hotel and propped it down beside Al.  Alas, what he ordered is unknown and we shall never find out if this particular Curry was of quality or not.  It was never eaten.  Perhaps the locals will give advice, soon?  (Lord Clive?)