Hector had guided the Ladies this morning down to the Englischer Garten by U Bahn.  A welcoming Gluhwein at the Chineser Turm acted as the Hair of the Dog.  Hector was back in the land of the living.  No word from The Chaps.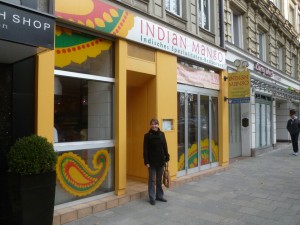 There was a time slot written into the Tin-Tinerary that permitted the intake of Curry-Heute.  Marg, the ever dutiful wife, agreed to come and watch Hector have his fix.  She had enjoyed the full Breakfast on offer the Hotel Royal, that was at a time which was far to early for Hector's digestive system to be open for business.   The dinner at Pschorr last night was not cheap and so Eleanor decided her pocket had been hit hard enough and resisted more Curry.  Perhaps she does not eat as much Curry as Hector.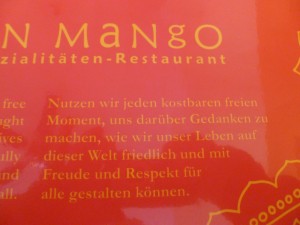 Hector's navigational skills took us with great efficiency back to the Indian Mango (Zweibrückenstr. 15, 80331 München).  We discovered a Goan outlet around the corner as we turned left at Isartor.
A new Waiter was there to greet us but our Young Host emerged from the back room and came over to acknowledge us.
Lamb Chettinad, well what did you expect?  Now I have discovered something.  This dish is not as good as the Fisch version.  My own website highlights other Lamb dishes from my first recorded visits last year.  The Lamb was on the tough side, it could have done with an extra half hour.  The flavour of the Chettinad remains wondrous so this is still an outstanding Curry.  Maybe the other Lamb dishes will temp me next time.
Marg watched my ritual eating with a bemused expression.  She likes cake, biscuits, sweets; Hector never eats these.  Hector eats Curry.
 The Bill
€15.90.  This was the meal price, no soft drink required today.
The Aftermath
The staff present today were delighted to have their photograph taken.  Sadly, Mr Kunjappu was away and so was not seen on this trip.  The next visit will probably not be until July.
And so day trip to Kloster Andechs ensued, here the Spezial Hell is available.  The full report appears in Bier-Traveller.