Hector and Marg ate at Balbir's (7 Church St., Glasgow, G11 5JP) some years ago. The fact that such a time has passed before our return may speak volumes. This was not our intended venue, however, Mother India's Cafe was queued out the door.
This is a cavernous Curry House, with a bar area at the entrance selling Pilsner Urquell.  One knows that this is not the usual Curry Cafe that Hector now prefers. With classic wallpaper, drapes and tablecloths one instantly knows the prices will be higher than average. Marg likes this ambience.
Despite the place being less than half full there was a stutter in our table allocation. We were given the last of what appeared to be the tables for two. The venue is set up for larger groups and they were decidedly in the majority.
The menu was minimal compared to many outlets in the city. We gave the Fish a glance and disregarded it, way over-priced.  Marg chose the Lamb Mince Palak and Hector chose the Lamb Ginger Bhoona (Hot). A Garlic and Coriander Nan, not specifically mentioned on the menu and a Mushroom Rice were our traditional Accompaniments.  Two Chapattis tend to be our norm, but not at £1.80 each.  This is a nonsensical price for this modest Bread.  In the Curry Capital of Britain, Chapattis are free and come in threes.
The wait was not a long one. This raised Hector's suspicions. Just how much tweaking was necessary in their Curry pot to produce these dishes?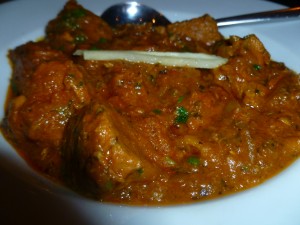 The Ginger Bhoona had a thick-ish Masala, it looked the part. The Nan was dry and thin, nay tired. On dipping the pre-sliced bread into the Masala there was little impression. The shared Rice had Onion and Mushroom. Marg was impressed by this. On spooning the melange of Curry and Rice still nothing. The Lamb was very tender but there was absolutely no flavour coming from it. None.  There was no kick either.  So much for Hot.
I could only shake my head. Actually I did find some taste, from the three slivers of Fresh Ginger that topped the dish. Is this what made it a Ginger Bhoona?
Now Marg's take on her meal is an entirely different report. She enjoyed her creation. Again when I sampled it nothing came to the fore and this had Spinach.  How is this possible? I remarked that my dish needed a Clove, a piece of Cinnamon, something to give it an edge. Ironically, Marg's plate now had two Black Cardamom Pods and a sliver of Cinnamon set aside.
 The Bill
£33.60. This was with no Starters, shared Sides, and two soft drinks. It could have been worse. I gave my calling card in exchange for their takeaway menu. I was asked how I had found my meal. 'Ordinary' was my reply.
The Aftermath
Whilst walking around to The University Cafe for Dessert – a full flavoured Italian Ice-Cream, we debated the situation. Marg enjoys these venues, she thinks the setting is as important as the food. I disagree entirely. I cannot understand why people go out to eat Curry and choose a venue where the food is this ordinary. Go for a real Curry!