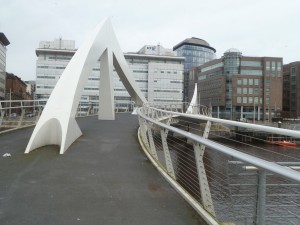 Hector had a training day today.    The new continental approach is to end the meeting at 13.30, in this way the organisers do not have to feed the delegates.  One does not hold the meeting in Robertson St., adjacent to the Squiggly Bridge and not expect Hector to start salivating as the morning goes on.  'Tis but a  two and a half block walk across the Clyde to The Village (129Nelson St, Tradeston, Glasgow, G5 8DZ), I was there at 13.35.
Sixteen other diners were taking advantage no doubt of the lunchtime menu offer.  Hector declined this, a Village small portion is not what I seek.  I asked for the Full Bhoona.  Today this meant the classic Village Lamb Desi Korma (Hot) with Vegetable Rice.
There was time to share my sheer delight at having a Curry-Heute experience on a workday at this time.  The text replies came back, being the ultimate professional, I took these in my stride.
The new Lunchtime Doris (so when was I last here at this time of day?) brought me my meal before the four Chaps sitting opposite.  How people must hate this.  The camera did not attract any attention despite being in a house full of staff I for once did not recognise.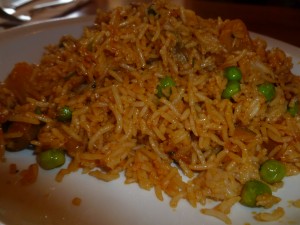 The dish was full, of Masala.  The Lamb count was not high, eight pieces, maybe a pulped ninth.  For a moment I wondered if this was the lunchtime mini portion until the Chaps received their modicum of food.  The Rice was back to its old self, none of this upturned bowl serving nonsense.
I piled on the Lamb and went for it..
Oily Soup with Yoghurt, anyone?
The place has lost nothing in terms of flavour.  This Curry assaults the taste buds.  It is almost the old 1960s classic taste of Oily Red Sauce with Meat, but the Yoghurt gives it a new dimension.  Is this Shorbva with Yoghurt?  The Citrus then hits the back palate and one instinctively knows that this is a Village Curry.  Give me a blindfold, I will pass the test.  But will the Chef on a Wednesday night?
 The Bill
£10.95.  This included the Sparkling Water.  One assumes the Lunchtime Deal would have been less.
 The Aftermath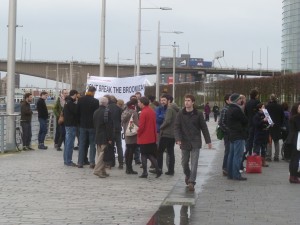 There was a demonstration on the north side of the Squiggly Bridge.  Hector was told there are plans to build a two storey building (a restaurant?) on the Broomielaw effectively blocking the riverside walkway.  What will the Planners get up to next?  Back to work, today's shift ends at 20.00.
Tomorrow is a Bradford Curry Day!