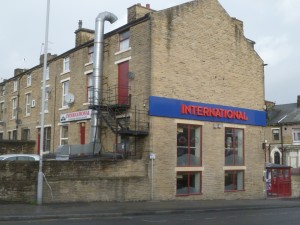 Robin and Hector joined ?Stan! for breakfast at the Holiday Inn Express. Coffee and Juice is all I was interested in. Hector had other plans. The rest of group were heading through to Leeds for the first part of our Bier-Travelling. Hector had a Curry on his mind at The International (40-42 Morley St, Bradford, BD 1BA).
Hector passed the premises at 11.40, the door was closed. I walked on by and took out the HTC. 'When do you open?' I asked knowing full well the official time was noon. 'We are open now.' By the time I put my phone away the door was open and Hector was the first customer of the day shift. The Chap I assume is the owner took my order. He may have remembered me. The Fish Karahi would be the perfect start to this day, light on the stomach and hopefully as full of flavour as the Lamb counterpart.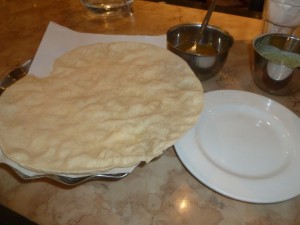 Once again the Complementary Poppadom and Dips were placed before me, once again I did not touch them. It takes no time at all to cook Fish and so it was no surprise when the meal arrived within minutes.
 Breakfast of Champions
The three Chapattis might prove too much for Hector at this time of day. They were magnificently warm as I tore off a strip and grabbed some Fish. Superb!
Some pieces of the evil Green Capsicum had been included. I even ate a couple of these as I thought the crunch would add to the soft texture of the Fish and the Masala. This was lovely dish. If I am ever lucky enough to be here for breakfast again, this will be the ritual order.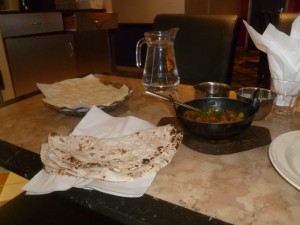 The Bill
£7.50. This now has a familiar ring to it. Great value, great Curry.
 The Aftermath
Robin was waiting for me at Bradford Interchange. And so we sped off to The Hop to sample Ossett's Excelsior and join the rest of The Chaps.