Craig and Yvonne planned to join Hector for his third Curry-Heute at The International (40-42 Morley St, Bradford, BD7 1BA). Howard and Tracey had taken an earlier train back from Huddersfield and might possibly still be there. Alas, Hector was too late. 'Your Friends have just left.' I was told by our longest serving waiter as I entered. Mein Host verified that I had indeed been there this morning. This was the third visit in ten hours.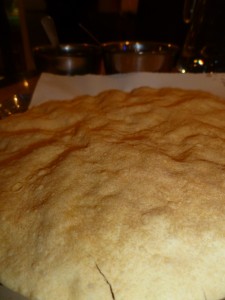 Having spotted the Lamb Karela in the wee small hours, this had to be the Curry on which  to finish the day.  The Complementary Popadom and Dips were presented, this time I ate them. It felt like a long time since breakfast.
The Lamb was again cut into the small pieces that is the norm in Bradford. It feels like a mountain of food. The Chapattis were put to good use scooping up the Lamb and minimal Masala. I had not specifically asked for Hot, but this certainly was. What the secret is to create this style of cooking is beyond the skills of Hector. Anyone can make a dry Curry, but to still pack in all this wonderful flavour remains a mystery. The Salt content was significant – Karrah!
The bitterness of the Karela was not excessive. How different this was from my Karahi last evening I know not. I was too busy having fun to take this on board. Karela v Methi? Both give an even drier flavour to the already dry dish. It is the balance that is difficult to get right.
The Bill
£7.00. The menu said £7.50 but this is the Bill that was pre-written and awaited me at the counter. The Chap I consider to be the owner was still on the premises. Maybe there is a special discount for eating this much Curry in the same restaurant. Who else has done this? Who else loves Curry this much?
The Aftermath
'You should open premises in Glasgow and call the place 'Bradford Curry" I suggested to Mein Host. Somebody should.
I received a text from Howard: 'Now we understand what you are trying to do with your Curry, Dark and Dry.'
And so my day of indulgence in the Curry Capital of Britain draws to a close. It will be back to bland UK food for the next days. Spag Bol anyone?