Hector fancied a change. The Curry-Heute had to follow a superb weekend in Bradford, Curry Capital of Britain. Maybe tonight was the time to visit the commonly least fancied of Helensburgh's three Curry Houses. So tonight Marg and Hector descended upon Helensburgh's seaside front to visit the Cafe Lahore (33 West Clyde St, Helensburgh, G84 8AW).
Arriving first I had time to read the menu in its entirety. My choice was simple: Lamb Saag Karahi (Hot). Marg appeared out of the pouring rain, when will it ever stop?, and selected the Lahore Khas which is a mixture of Lamb, Chicken, Prawns and some Vegetables.
We were four diners in all. The other couple enquired about the advertised Buffet, it was not available. They also asked for drinks to be advised that none were available, but they could bring in their own. People want alcohol with Curry? The accompaniments were two Chapattis and a Vegetable Rice.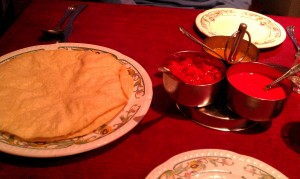 Complementary Poppadoms and Dips with a splendid Onion Chutney were brought to the table. The wait for the mains was not too long which is just as well as the house was a bit on the chilly side. A new Bert appeared to serve us. What happened to Bert #1?
My first reaction to the Karahi Saag was to admire  the plentiful amount piled high in the dish. However this turned out to be a mass of Spinach. At least it was not 'Soup', the meal looked the part. Sadly the taste was minimal. How can a plateful of Curry with Spinach not have the normal bitter? Marg suggested that as I was recovering from the common cold my taste buds may be operating outwith their usual efficiency. I did taste the Cauliflower which was with the Rice.
Marg had not asked for a Hot Curry, but somehow what was presented was indeed too hot for her enjoyment. She ate about half. Now normally this is the cue for Hector to dive in and therefore aid the revue of two Curries simultaneously.
Something Happened
Having remarked on how grisly the piece of Lamb was that I was about to eat, I prepared myself for the long chew. There was a crunch. Something alien had attached itself to the Lamb. Hector is falling apart. A back tooth had disintegrated, with a mouthful of Lamb it was an age before Hector could determine the extent of the damage. That was basically the end of Hector's dinner.
The Bill
£20.30. This included two soft drinks, so not bad at all. The portions were more than adequate. They really need to work on the overall flavours.
The Aftermath
The calling card was graciously accepted. Many of us still wonder how this place survives. The venue has been there for years but I know nobody who visits. The Akash has little to worry about.
Update
The Cafe Lahore closed mid 2012 and has been redeveloped – but not as a Curry House…