But does it sell Curry?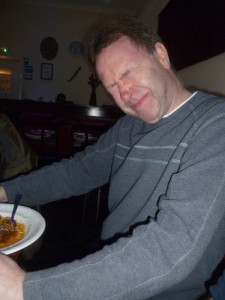 'Today is the last day we shall all be together until New Year.'  So Yvonne realised a month or so back.  A grand day out was conceived, well that was the plan, ?Stan! is elsewhere.  Further proof that Dr. Stan was kidnapped by Aliens.  Instead we are joined by his able sidekick Dr. Rick and his dear Lady Suzie.
There was a 13.00 rendezvous at The Other Place, a pub (?) so poor in terms of ambience and service it will not be named in this Website or indeed Bier-Traveller until they get their act together, if ever.
Next weekend Hector will be in Köln having Gluhwein in the proper environment.  Today was Ersatz, with a visit to the Weinachtsmarkt at St. Enoch Sq.
We managed to lose each other despite the plethora of mobile phones.  Why do women have their phones in their handbags, what is wrong with their knicker pockets?  This does not explain why Howard was incommunicado.  Steve was very efficient and managed to become a late add in to the Curry order.
The Friends of Hector have congregated at The Khyber Restaurant (221 St Andrews Road, Glasgow, G41 1PD) to eat their version of the Lamb Karahi.  Sold only by the half kilo this is a demanding ritual.  We have learned to stir what is presented  as the  flavours at the bottom of the metal dish defy belief.  What looks like a Stew is indeed one of the finest Curry dishes served in Glasgow.
'Is that to sit in or takeaway?'
The order was phoned in an hour in advance, the Chap on the other end appeared to understand, I asked for eight Lamb Karahi and advised that one person would order on arrival.  Starters were mentioned, on arrival they had put us a down for five starters.  Where did that come from?  Chaps, learn the language please.
Dr. Rick found something on the minimal menu for Suzie who eats even more Baby Food than Craig.  Craig had decided that he could cope with the normal presentation; the facial expression suggests this may have been over ambitious.  So much for Mr Vindaloo Man.  Six Chapattis were also added to the order.  The Complimentary Salad arrived with a Dip that was pronounced Spicy!
The confusion set aside, the plates of steaming Boiled Rice were brought to the table by Amjad, the new Mein Host.  The large steel Karahi were brought out as fast as the staff could carry them and we were off.  Suzie had something similar looking, but in Chicken.
Six of Nine
We had three people experiencing the joys of the Khyber for the first time.  Dr. Rick and Steve were instantly impressed.  This Curry, if indeed it is a Curry, is astonishing.  Turmeric, Chili Powder, Cinnamon, and Cloves are ingredients I would say were not included in the recipe.  Black Pepper is very much the source of the heat.  The taste of the Lamb itself is to the fore.  This is a slow cooked Stew, it becomes a very fine Curry that the six regulars hold in very high esteem.
The Chapattis appeared, they had transformed themselves into Nan.  Suzie let us taste her Chicken dish, Hector could tell little difference in strength, poor Susie.  The dish was certainly Karragh!  The Salt content was impressive.
Having starved ourselves, the food was consumed to the last morsel.  Why don't we come here more often?  This was the first mass outing of The Friends of Hector for some time; I shall have to work on this.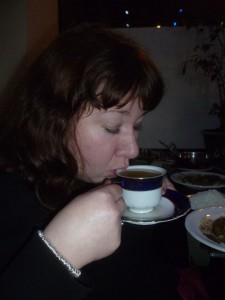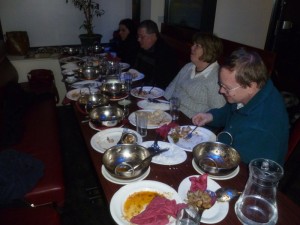 The Bill
£112.15.  £14 per head with a half-kilo portion.  Everyone was more than happy with this, I believe.
The Aftermath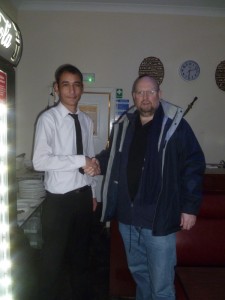 Where is Hamza?  I was told by Amjad that he is no longer working in the catering trade.
Taxis took Seven of Nine to the Allison Arms where Robin and ?Stan! were waiting, Jonathan arrived later.  It was time to attack the Weihnachts Bier.  Contrary to Thursday's report, there are now two pubs in Glasgow selling both Pyraser and Tucher seasonal Festbier.  Olaf had reportedly brought more from his hidey-hole in Embra'.