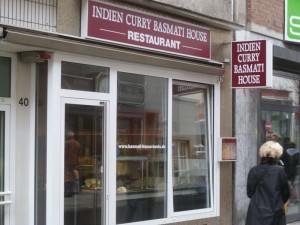 A visit to the Indien Curry Basmati House (Severinstrasse 40.  50678, Köln) is now very much a highlight in visiting this fine city. Opening at 13.00 on a Sunday one did not expect to enter a find a dozen fellow diners sat down by 13.20. Hector has sampled a few dishes here now, they have all impressed. Today I made it to the bottom of the Lamm section. I had the feeling the menu had changed since last month!
The Lamm Chilli Masala was the final item on the list, guaranteed to be Scharf, but likely to contain the dreaded Capsicum. The wait was not excessive and the Doris brought the meal. I think there is now an air of semi-recognition. It is a pity I do not know when my next Koln visit will be.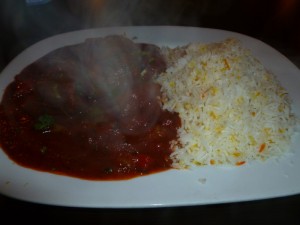 There is a House Flavour that permeates all the Curry I have eaten here. The flavour is unique and is what makes this such a highly recommended venue. Today Hector had chosen badly. This dish was too sweet for my liking. The sweetness effectively drowned the House Flavour. The dish was certainly Hot, so no problems here. The Boiled Rice which comes on the plate with the Curry was once again over generous for one person. I have eaten every grain in the past, but not today.
I picked out the Capsicum pieces and made a pile. The Onion was in large chunks, did Marg choose this? The heat did make the scalp sweat. Not a bad Curry by any means, but I know this place serves much better.
The Bill
€10.00. This is a Curry Cafe charging the correct amount for what they sell, no pretensions, no frills.
They do good business because they sell very good Curry. (See previous Blogs for better choices, unless of course one enjoys a Sweet Curry.
The Aftermath
It took Hector three trams on a Sunday timetable to catch up with the others. By the time I made it to Heumarkt, Steve, Juliet, and even Maggie had gone shopping. Jonathan and Olive were now in Muhlen and as one would expect, Bier-Traveller picks up the story.