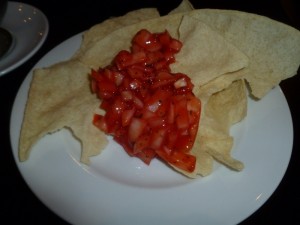 Had Chelsea beaten Spurs this evening, Hector would have stayed in the Bon Accord and no doubt enjoyed a certain namesake's hospitality and Pink Champagne could well have been flowing. Instead, I found myself sitting next door in the Punjabi Charing X (157-159 North St, Glasgow G3 7DA) enjoying what will become one of my most memorable Glasgow Curries, ever. Hari was there to greet me as I entered. Hector, famously the first paying customer at this venue, is well known to those who run it. I took a table on the raised area to the rear of the restaurant where the other diner, Robert, was enjoying his fare. I think he too enjoyed what followed. I asked for a menu, indeed I insisted on seeing the menu. In previous visits I have been brought what Hari knows I will like. I wanted to see what was on offer for the rest of the planet. The menu was not extensive, so no pretense then. How many Curry Houses have page after page of Curry variants and yet only have two pots of Masala in the kitchen? On the Lamb list was the enticing mention of Methi – 'a strong taste of fenugreek'. This was followed by Tikka Masala, no chance, and then Hector's commonly ordered meal the Karahi – 'these dishes are cooked in a karahi and blended with freshly ground Punjabi spices, green peppers, and onions giving a very tasty Punjabi dish'. Hari came over and sat opposite. I had to ask about the ubiquitous Green Pepper, why do the majority of outlets insist on adding this to a Curry? 'How many different vegetables do you have in your kitchen?' I put it to Hari that it is the wrong flavour and the wrong texture for Curry. 'Squishy' is how Hari described it. I shall use this in all future write ups I told him. I related the crunchy effect created by the Indian Mango in Munchen with Coriander stems. Hari confirmed that these do add their own particular flavour and texture. I admitted that until this year I was unaware of what Karela actually was but now love its bitterness. Hari told me that his Mum makes Karela twice a week and sews it back together, I would conclude that this is after skinning, de-seeding and salting this jaggy vegetable.
Hector was in his element, better was to come
Methi is the other great flavour I have found irresistible. I therefore asked if I could combine the two aforementioned dishes – the Methi and the Karahi and of course exclude the Squishy Vegetable. Two Chapattis would be the perfect accompaniment. The Complementary Poppadoms and Onion Chutney had by now appeared, Hari returned for one further consult – 'on-the bone, or off-the-bone?' The Son of Hari brought my Sparkling Water, all was set. The Curry was set before Hector, it looked splendid. The Masala was thick in minimal. Lamb Chops were the basis of the meat. It is now all about the flavours. Gosht!
The secret of a good Curry is about the blend of the Herbs and Spices. I told Hari this was not a good Curry but an absolutely outstanding one! Hector was in Curry Heaven again and I was in Glasgow, not Crawley, not Bradford, not even Glasgow's South Side. This was a Curry House next door to my local serving a truly sublime Curry. (Sorry, Hassan, it may be some time before I visit the other great Charing X outlet, Cafe Salma.) Eating with Chapattis is by far the best way to eat such a thickly textured meal. One has to lift the chunks of bone to extract the meat. Cutlery is simply a tool towards frustration. One reaches the stage where the end is in sight and sadness becomes the emotion, why can this not just go on, and on…
There was further discourse
Hector was certainly being indulged this evening. By now I was the Lone Diner. On completion of the meal Hari sat down again. I had to ask him about the flavours from the green stringy Vegetables that were strewn through the Masala, the Coriander I had identified but what more was there? 'Fresh Methi' was the reply. Fresh Methi? I have only ever seen the dried leaves available in Asian grocers, – 'What does it look like fresh?' I had to ask. The answer makes you feel that small. 'Mint.' Hector has no doubt seen this in KRK for the decade he has shopped there. They taught me in the early days to always taste the fresh Coriander to ensure one has not picked up Parsley, some strands of which look identical. Mint is something I taste in toothpaste, I do not eat mint. Just wait until I can get to my favourite grocer in Aberdeen. Further discussion covered the serving of what I refer to as – Soup – Hari tells me this is what some people expect. I suppose the apocryphal story of the creation of Tikka Masala bears this out. What about 'Karragh' as I have been writing for many months. 'Hari looked puzzled then repeated the word – 'Cara – it means forceful.' The seasoning is important as it brings out the full flavours of the blend of Herbs and Spices. How many Curries have I reported which were so poorly seasoned? They were simply bland. Salt is therefore a crucial ingredient in creating an outstanding Curry.
Lamb Gurmeet – a new Curry dish is born
'We need a name for this dish.' I told Hari. I shall certainly be back to eat this meal again, soon I need to know a) that they can repeat it, and b) that they will know exactly what I seek. 'Lamb Gurmeet' was what Hari came out with. This meant nothing to me. Hari disappeared down the stairs and promptly returned, he was not alone. This is Mr Gurmeet! Also!
The Bill
In all the excitement I nearly forgot to pay. £13.10 is I believe what I parted with.
The Aftermath
Promising Hari that I would return with The Friends of Hector as soon as the festive season permits our reunion, Hari came up with a suggestion:-
The inaugural Punjabi Gourmet Night. Once more folk have tasted the Lamb Gurmeet I am sure people will turn out for a Curry extravaganza. The Chaps at TATTGOC will surely wish to be part of this? Late January, into February, once everyone can afford it, there will be further communication on this topic. I now realise that I will have no need to consult the menu for the foreseeable, my dish of choice will not be on it.
Duck's Off!