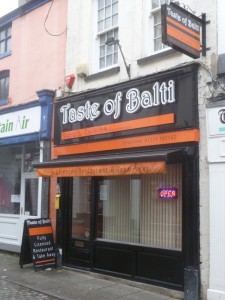 Taste of Balti (23 Market St, Ulverston, LA12 7LR) is next door (almost) to the Piel Castle where The Friends of Hector made their rendezvous. A table for twelve was booked for 20.00.
Arriving punctually it was evident we would now occupy about a third of the premises.  Once assembled, fifteen Poppadoms with accompanying Chutneys and Dips were presented. Only a single Lager was purchased by the company – we were here to eat Curry!
Hector was first to order.  Fish Tikka would be sufficiently light and hopefully get the taste buds attuned to what would follow.  Two others had the same, including Howard.  Craig was also one of three who ordered the Sheesh Kebab.  In the distance were other Starters were ordered including Prawn Pakora, Lamb Tikka and Kathi Kebab (Marinated lamb grilled with fresh onions and peppers.  Served on a bed of salad.)
The Fish Tikka was more salad than Fish.  This was not particularly impressive, but was lighter than nay meat dish I could have ordered.  It did what it was intended to do, keep the Hector happy until the arrival of the main event.
For the main course the Special Sathkari Gosht (Lamb cooked in calamnasi juice (wild lemon) and spices. A superb lamb dish with lots of flavour, served medium to hot.)  Five more of us ordered this dish, including Howard.  Mein Host assured us that this was a good choice.  He also revealed that his best selling dish was not on the menu.  Marg ordered the Thaba Lamb Lahori (Fresh garlic, ginger, onions and green peppers with red yoghurt sauce served in a sizzling korai.)  One Podina Jal Murg (Bhuna spices, fresh mint and green chilli), one Garlic Chicken, one Sylhety Special (A delightful regional dish, almost dry cooked with sheesh kebab and chicken tikka.), one Chicken Bhuna Kathi and finally one Chicken Rogan Josh completed the mains.  Five Chapattis, 3 Nan (various) and six Rice (various) completed the order.
There are definitely some new terms here.  Sylhety is aka the Surma Valley in north-eastern Bangladesh.  Sathkari is from Eastern Bengal and is a common Citrus dish served in a number of UK restaurants, especially south of the border it would appear.
One assumes the Chef was happy with the seven Lamb orders, six of which were medium to hot.  This is a lot of Chicken ordered at the far end of the table.
The Naans arrived first, the opposite of the Glasgow experience, followed by the Rice.  Hector's meal was set before him.  It was brown without excessive Masala.  The Lamb had been cut into thin strips resembling Beef in a Stroganoff.  This puzzled Yvonne.  The Citrus was what had attracted me; the Masala was as good as one could hope for. This was a thoroughly pleasant dish.  Howard could have had his hotter, perhaps someone stole his dish?
Marg's meal was indeed red.  A dish that nobody wanted was passed up and down the table.  ?Stan! ended up with a Chicken dish when he had wanted Lamb.  An error had been made, the Bill does not reveal any error made by Mein Host – does everyone know that Murg by default is Chicken?  Jonathan I believe had the combined meat dish, the Bhuna was not in any way dry.
Given that this restaurant was completely unknown to us I have to state that I was impressed.  They have only been in business here a couple of years.  The service was excellent; the banter with Mein Host was not intrusive.  The lights kept dimming and then recovering; something to do with the heat in the restaurant? Really?
The Bill
£192.10.  This was within acceptable parameters.
The Aftermath
We headed to the Swan, where we made very welcome.
Update: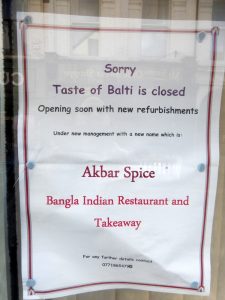 On September 24th, 2016, this venue was found to be closed.
Akbar Spice will open at some point, though as Hector has – done – Ulverston, it is unlikely there shall be further updates.