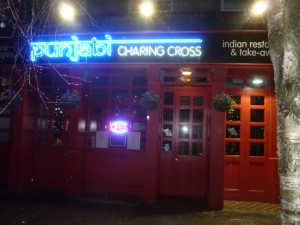 The holidays are over; it is back to the normal routine.  This means the Friday 6pm Curry rendezvous with ?Stan!. ?Stan! has eaten Curry twice over the New Year period in the company of Hector: at Ulverston on Hogmanay and on January 2 in the wonderful Sheesh Mahal in Bradford.  Tonight is his first visit to the Punjabi Charing Cross (157 North Street  Glasgow, G3 7DA), next door to the Bon Accord.
Hector was greeted by Hari and Hari's Son on entry.  They were expecting me tomorrow in different company and were all the happier to see me for the extra visit.  That my frequency of visit in the last few weeks has increased to the point of regular must say something about the quality of food on offer.  In the course of the visit Hari told me to advise anyone coming to get in touch in advance and they will cater for all tastes.  They will cook anything to order.  The last time Hector encountered this was in Balbirs Route 77 (Symington) on the way down to Prestwick Airport.  The house Chef, Mr Gurmeet, may well have had experience of working there.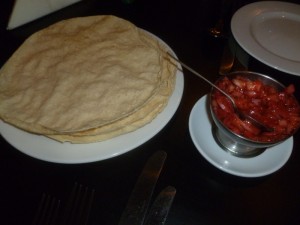 The Complementary Poppadoms and Onion Chutney were being devoured when Hari came over to take the order.  ?Stan! had decided to follow the Hector and accept the new Lamb Gurmeet creation.  Four Chapattis would be sufficient accompaniment.
Another couple entered and sat opposite, they clearly knew what they were after as the Lamb Chops were a major part of their order.
Lamb Chops are the meat basis for this new amalgamation of menu items.  The Masala is thick and the fresh Herb content – Coriander and Methi – is to the fore.  It is from here that the wonderful flavours emerge to complement the secret blend of Spice.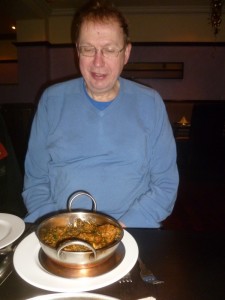 'This is very tasty.' ?Stan! commented spontaneously.  The man of few words had spoken.  There were occasional audible 'Mmms' from the retired Doctor of Physics.  I dared to ask for a verdict at the end of the meal: 'Very enjoyable.' was the none too verbose reply.
'This is good enough to set before Ricky.' (our man in Bradford) was my conclusion.
The Bill
£24.85.  This was for two and included a large bottle of Sparkling Water.  The next visit will be for four people and I bet the bill is more than twice this modest sum.
The Aftermath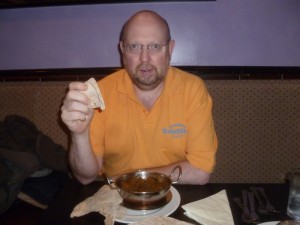 Tomorrow's visit is already on the radar.  Hari told me that he bought Karela freshly this morning in order to prepare it for my visit.  This is service.
If only the Real Ale pubs of Glasgow would cater for their customers' desires to this level.
Postscript
On Wednesday evening I met up with some of The Chaps at The Other Place.  Four people asked me as they arrived where I had eaten my Curry-Heute.  When the ever dutiful Marg collected me form the Bon Accord she asked too.  Do people think I eat nothing else but Curry?