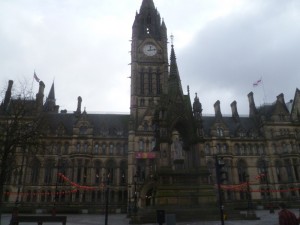 ?Stan! and Hector were the last of the group to leave the New Oxford, the rest retiring after a long day before the pint glass. Having only arrived at 21.00, Hector had much to catch up on. Foremost in my mind this evening was a first ever visit to the famous Manchester Curry Mile. I had strategically booked myself into the Travelodge on Upper Brooke St which was walkable from the eventual destination, however it was a taxi which took me from Salford to Wilmslow Rd. ?Stan! headed in the other direction.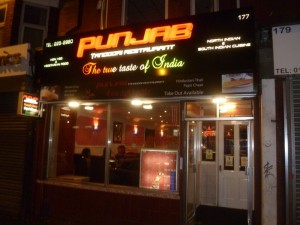 The taxi driver was from Rochdale and had nothing to trump my intended destination the Punjab Tandoori (177 Wilmslow Rd, Rusholme, M14 5AP). This was not a random choice but based on the research I had done in the previous days. Many state that the real Curry in Manchester is served in the Northern Quarter which I visited last year. I had read enough to convince me that this place was worth a try.
This looked to be Hector's sort of place, a decent looking layout and not pretentious in any way. There was a bar selling the full range of drinks one may desire, alas as the readers know, when Hector is focused on Curry, there will be no distraction. A bottle of Highland Spring Sparkling Water made me feel at home.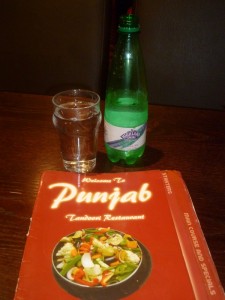 The menu was offered, I glanced at it and decided to adopt my preferred method of asking what was available. The Lamb Chops Karahi (without the dreaded mushy green vegetable) was agreed upon. One Roti and one Onion Kulcha were the accompaniments. Kulcha, this would be a new experience.
I sat with my toy and amused myself. The waiter then spotted me sitting arms crossed and must have realised I had now been waiting quite some time. He assured me the meal was coming, I replied that I was happy to wait in order to have something worthwhile prepared.
Two Chaps sat at the table adjacent to the bar going through the receipts for this evening, business must be good, their expressions certainly conveyed this.
The meal was brought to the table and instantly impressed. Two Lamb Chops sat with their bones hanging over the edge of the Karahi bowl, two more were covered by an interesting looking Masala.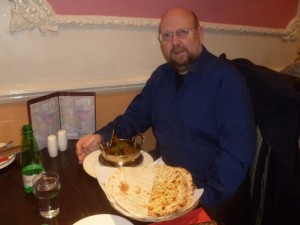 The Onion Kulcha and the Roti were both halved and were well presented. The Kulcha had to be tried for the first dip, oh yes.
The Kulcha was shiny suggesting it had been cooked in oil rather than just a hot plate as per the Roti. Sadly the Roti turned out to be like cardboard and so I focused on this new bread treat. An oily Matzo may be a fair description, I shall certainly have this again.
The dangling bones were cold, very cold, I picked one up and the other end of the Chop was hot, very hot. I deduced that this meal must have been heated in the Karahi as the title would suggest, however the bowl was touchable. The Masala too was magnificently hot and revealed a flavour that was a brand new experience for Hector. There was no Methi evident, or Coriander, there was a subtle sweetness therefore. This was most impressive, I was in my element. Gnawing on the bones I began to wish I had stronger eating weapons, one dental visit after a Curry last year was enough.
As I am able to remember the flavour/taste of most things I eat, I shall call this the Manchester Curry Taste. I must also make time to become a pedant and become strict about my careless usage of taste and flavour, I know they are not the same.
The Bill
£13.10. For what I consider to be a top of the range meal I was happy with this, of course in Bradford the Breads would have been inclusive.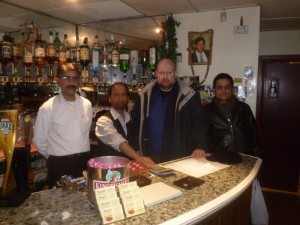 Taking photographs of everything one eats does tend to attract attention, especially when the venue is on the quiet side as it was after midnight. The waiter had offered to take my photo as my meal was set before, a nice touch I thought. I made my positive post-meal comments to my excellent waiter and gave him my card. The Chaps who had been counting their takings appeared, one was the owner. The card and my humble website were discussed, I admitted to being a Manchester Curry Novice but my Glasgow pedigree went down well. Everyone wanted to be in the photograph, how did I end up behind the bar? Instinct? Fate? I bade farewell to a great group of Chaps and headed out to explore Curry Vegas.
The Aftermath
At night Wilmslow Rd is Hector Heaven. The place is well lit with an array of Curry Houses one could only dream of. They cater for all tastes and budgets. An Afghan outlet instantly caught my eye, I wonder… Taking a photo of one establishment led to a conversation with presumably Mein Host standing the the doorway. I said I had already eaten but still a good chat ensued. He took my card, I promised to visit.
A taxi driver then hailed me. Seeing I was photographing all in sight he asked if I was looking for somewhere to eat. I asked for his recommendation, he assured me the place he was parked outside, the Lal Qila, was where he dropped most people. He booked me in and took me home, we discussed Curry at length, Hector likes Manchester.