After a day trip to Sheffield, only ?Stan! (two lunches) and Hector were left standing. One of us had been saving oneself for another visit to the famous Manchester Curry Mile. A taxi took me to the top end of Wilmslow Road, the driver had nowhere he was determined to take me to, and so I set about making my choice. The Shahi Masala looked impressive as I approached, but this is not my sort of place. I am suspicious these days of the great Curry Palaces where the crowds gather and all eat their bland Chicken Curry. Hector was in the mood for something different.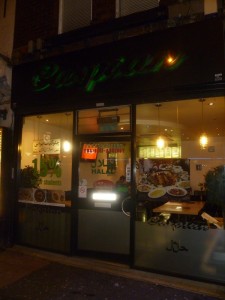 I photographed yet another exterior, the Caspian (61-63 Wilmslow Rd, Rusholme, Manchester, M14 5TB) caught my eye. Caspian, not a part of the Indian sub-continent I deduced. Hector Holmes has been busy of late.
As I entered, what turned out to be Mein Host was sitting eating a Dessert and immediately questioned me as to the purpose of my photography. I told him I photograph everything and would tell him why once I was fed. A laminated A3 menu was set before me, as is becoming my norm I asked Mein Host what he had for me. The mention of Lamb on-the-bone caused him some stimulation. He said it would come with Salad and Rice. Hector has not had Rice for a while, good.
We chatted away, by the time my meal came he knew where I came from and why I was in Manchester. I explained the perverse logic in choosing to eat in a place directly opposite what may be the biggest Curry outlet on the Mile. Curry-Heute had not been mentioned.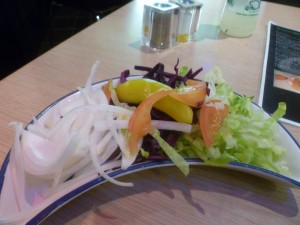 The Salad was fresh and it is just as well I like raw Onion. I nibbled, one can be a rabbit on occasion. As I waited I studied the menu – Borani: chopped fresh spinach with onions, garlic, in yoghurt. Had there been two of us dining I would have ordered this just to try it. One starter had the name Shirazi as a prefix. I know this name well, it is Iranian. I would ask at the end.
A young waiter appeared with my Lamb and Rice. There was more Rice than two people could eat. The Lamb was a single mass on a bone that could have been Spinal. As I ate I read the menu to work out what I might be eating. The Caspian Special is Lamb neck in a tomato sauce served with rice. Tomato Sauce was an honest description, the Masala word would not be appropriate. It was flavoursome but thin.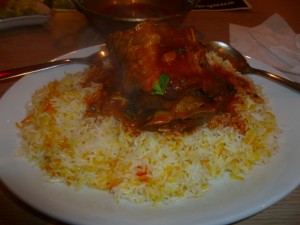 The Lamb was wonderful. It came off the bone with ease, my knife was abandoned. Tender would not do it justice. The full flavour of the Lamb was complemented by the humble Sauce. I ate heartily knowing that half the Rice would be wasted.
Mein Host was by now sitting with other customers. I was not ignored. I confirmed that the meal was enjoyable. I would probably not have picked this from the menu myself, I am glad my tactic paid off so handsomely.
The Bill
£7.00. To think that I had the equivalent of seven pounds worth of Rice on my plate, one is left to wonder. Great value.
 The Aftermath
I handed over my card, this was well received. Mein Host asked how to contact me but then spotted the email. He confirmed that this indeed was an Iranian outlet. This was  a pleasant experience, across the road how many would have claimed that?