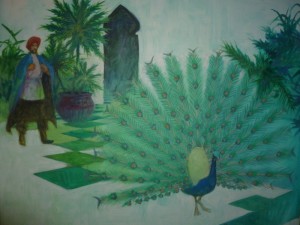 This evening's Curry-Heute was nearly an afternoon Edinburgh Curry, alas the lure of The Volunteer Arms in Musselburgh was too strong and the resolve became to visit Hari at the Punjabi Charing Cross (157-159 North Street, Glasgow. G3 7DA).  It has been two weeks since my last visit to what has become a firm favourite in the Glasgow Curry scene.
Last night I witnessed a Stag Trip, a crowd of Sikhs up from
Cardiff. A Piper welcomed them to the premises, they then took over the downstairs room and bar.  Tonight there was a private party in full swing in the main ground floor dining room. Hari said he could put me downstairs, the Lone Diner once more.
No menu was offered, no order was given, they know.  The wait for my Lamb Gurmeet would not be a long one. The Complementary Poppadoms and Onion Chutney were brought to my table, how many Onions can you get in a dish?   Ahmed, my Islamabad Correspondent e-mailed yesterday to suggest that I should graduate from Lamb on-the-bone to Lamb Chops. Dear Chap, is this not what Hector has been revelling in for the last few weeks?
It is a strange feeling sitting alone in a very busy building.  There is a party atmosphere and one is not involved.  I am told the person in whose honour the night was held is a regular at their Paisley Road branch.
Four Lamb Chops is the ideal portion
The Lamb Gurmeet and accompanying Chapattis were delivered promptly; I had popped my head in earlier to confirm my imminent arrival.  This is very much the Hector Curry of choice.  The combination of the Masala and the Methi is perfection, the flavours burst out. The Bradford Taste is there, the flavour from the tender Lamb itself emerges still. There is another background taste which hits the palate, this is just wonderful.  Every morsel was consumed save the Bones, if only.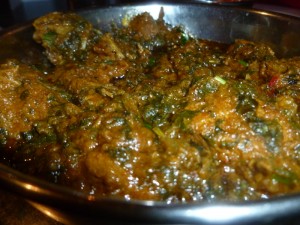 Hector has visited the Punjabi Charing Cross sufficient times now to add it to the list of Recommended Curry Houses.
The Bill
£13.10.  This included the customary bottle of Sparkling Water.
The Aftermath
Hari suggested that next time I try Goat. I shall.