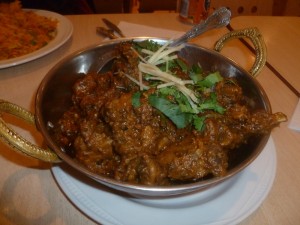 As is normal practice, the order was texted to Shkoor, Mein Host at Yadgar (148 Calder St, Govanhill, Glasgow, G42 7QP).  He replied asking if I wished Methi to be added to the order of 1 Kilo Lamb on-the-bone Goshat Karahi.  I replied: 'Methi, Karela, anything dry and bitter, my wit?'  It is good to be known.
Hector arrived ten minutes before the 18.00 rendezvous, time to catch up with Shkoor, friend of Ahmed who is a regular commentator on this Blog. Ahmed has suggested in the past week that I should graduate from Lamb on-the-bone to Lamb Chops.  Shkoor who was aware of this announced that tonight I shall be dining on a combination of both.  Perfect!  Apparently I shall get to meet Ahmed this summer – we shall go for a meal, somehow I suspect we shall not be travelling very far from where Hector dines this evening.
?Stan! arrived, punctual as ever, The Friends of Hector are reduced to this, as I had suggested, one or two of the company are afraid of Yadgar, after this evening we should be too.
Excess, without moderation
The customary Complementary pile of Poppadoms and Onion Chutney and Dips were set before us, a Salad normally accompanies this.  Tonight the Salad appeared to have moved up yet another gear with  lush green vegetation accompanying the Onion and Cucumber.  This would keep us amused whilst the Goshat Karahi was in its final stages of preparation.  Shkoor then appeared with a plate of Fish in Spicy Batter, not simple Fish Pakora; six pieces of appetising distraction, enough to fill any mortal.  Fortunately I had ?Stan! to assist and he is no ordinary mortal.  Remember, Dear Reader, this was hospitality, the welcome one receives when one becomes a regular at this very fine establishment.
The End of the Prelude
There should have been a Piper present, and someone to address the Karahi.  Tonight's presentation was way beyond the norm.  Hector knows what one kilo of Curry looks like, (see photo on Homepage) the meat was piled high and it resembled the sculpture in Close Encounters… expletive deleted.
Two generous portions of Vegetable Rice containing enough Potato to end a famine, two Chapattis and all this Lamb.  When one considers that the majority of folk who eat Curry could never afford this much meat in a month, well we couldn't let it go to waste.  The challenge was on, let's pace ourselves.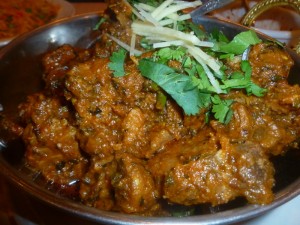 A standard portion was extracted from the Karahi.  This went down with ease, the second portion was already anticipated.  Shkoor came to check that the burgeoning Mr Creosotes were still active.  'It's the bone marrow!' I exclaimed, that's what makes the difference in flavour, that's what makes the Yadgar Curry.  I have eaten this dish two dozen times, this evening I finally sussed it; I know it is better on-the-bone than off.  In no other restaurant have I felt such flavour come from a bone and add to the overall intensity.  Lamb Chops? – this would not happen.  I shall continue to ask for normal bones.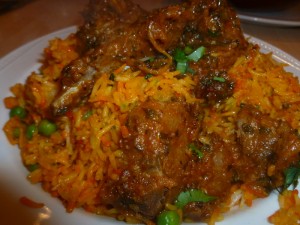 Anywhere else, we would have been finished.  The third helping is when one knows one is having a Feast.  ?Stan! is the only person I know who could match my appetite for Curry.  At no time did he enthuse, he feels no need.  He knows, I know, Dear Reader you know.
We did ourselves proud and ate the lot bar a few grains of Rice and a bit of Chapatti.
The Bill
There was one, it was paid.  I would not even tell a Rabbi how little it was. Hospitality, mutual admiration.  At Yadgar they are as delighted to see their food appreciated as we are to devour it.
The Aftermath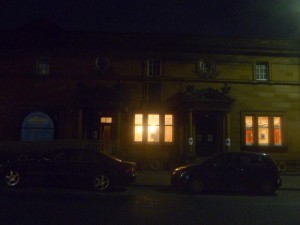 Two Fat Turkeys waddled along Calder St.  For the first time in eleven years the lights were on in the Calder St Baths, as I know them.  The Govanhill Baths reopen tomorrow.  Is Burt Lancaster still alive?  He remains barred no doubt.
A bus to the Bon Accord where the choice of Ale was poor.  A Festival starts next week; there is hope and perhaps even Hops. Marg has never seen Hector arrive home so early on a Friday night.  Tonight was a night about Curry, not Bier.