To celebrate the last late night of work commitments this session, a Curry Heute was called for.  The Akash (45A Sinclair Street,  Helensburgh, Argyll and Bute, G84 8TG) is the best of the three choices in this Clyde Coastal resort, by far.
There was salivation in anticipation of what was to come.  Having eaten here more than any curry venue on the planet the latest discovery would once again form the dish of the day.  This had to be preceded by the ritual Starter, yes, Hector had a Starter – the Chicken Chat just has to be sampled.  The Lamb Makhni with Spinach (Hot) has been enjoyed on a few occasions now and a Mushroom Pilau Rice was deemed to be the perfect accompaniment.  This Curry is Masala rich, not ideal for Chapattis.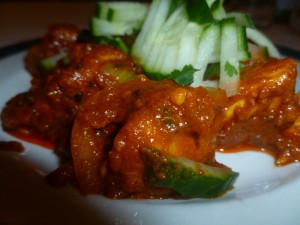 The Chicken Chat came quickly, I was the only customer arriving not long after opening time, yet somehow I missed Alan whom I met at the door, he had been already.  We must synchronise our diaries, for the next two years.
Off-the-bone is not how this dish is served in a typical Curry House; the Akash has always served it as mini Curry.  Tonight it had the full flavour that has been maintained over the last thirty years.  It may be darker than it once was, however I would recognise this dish blindfolded.  If I ever had to eat a Chicken Curry, then a double portion of this with Chapattis would be the ideal compromise.  Hector was ravenous, the Chat disappeared.
The main course came in an efficient manner too, one suspects that Shuel, the son of the owner,   realises that if one is out this early then it is between appointments.  The melted Cheese is what makes this dish significant.  The Spinach, in what looks like a cream-rich Masala, is a bizarre concept, somehow this melange actually works.  The Mushroom Rice was a good sized portion, manageable after the Starter.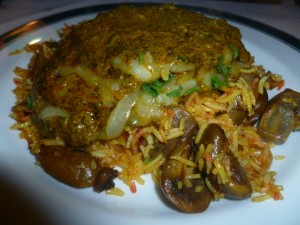 Hector's palate was still marvelling at what had preceded the Makhni.  It took time for the flavours to emerge, a long time.  Tonight I suspect they may have been light on the Spinach, it never really got going.  The Lamb too tasted a bit tired.  The Lamb was soft but required a lot of mastication.
The Bill
£14.60.  For once a Starter accompanied by the usual Sparkling Water.
The Aftermath
A very pleasant evening talking to the parents of my youngest charges.