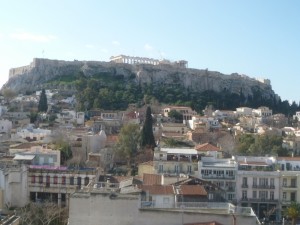 'Why are you going to Athens?' Dr Rick asked us last Saturday. 'I'm going to eat!' was the firm reply. Hector loves Greek food, fortunately Marg is quite partial too although she does not cope too well with my favourite dish – Stifados which are heavy on the Onion. I think I have written about Marg balking when being presented with dishes containing large pieces of Onion more than once.
On Sunday night we were forced to take refuge in our hotel, The Plaka, right in the heart of civil unrest. Hector had no dinner.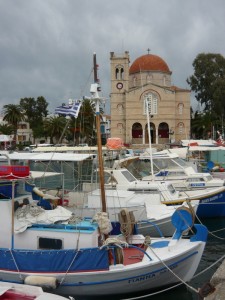 On Monday after a passable lunch we had a very poor dinner comprising of grilled Pork/Chicken. Our Valentine's Day trip to Aegina (One goes to a Greek Island for lunch, does one not?) saw us order Spaghetti, Bolognese and Carbonara respectively. We have passed many places serving Souvlaki but to my mind this is not proper Greek food. I like the various Stews which are slow cooked and are as good as any Curry. Many restaurants in Greece these days are simply glorified Fast Food outlets. I am determined to get my Stifados, however this evening was to be dedicated to the best of all food: Curry.
We had an aperitif at the Craft Brewery and took the Metro back to Omonia. From here the Dhaka Palace (26 Geraniou St, Athens, 10552) is a short walk down a very dodgy street. Being our third visit we knew not to be put off. Tonight the street was emptier than on our summer visits and in total darkness. Arriving at the Dhaka Palace I thought it was closed, there was little light coming from the premises. There were people inside, watching tv. On entering it was the classic Cowboy Movie scene, the place stopped, we were ushered through to the back room as is now customary.
See what the boys in the backroom will have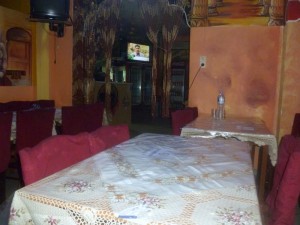 On our previous visits we have both had the excellent Lamb Karahi. Tonight Marg was still full after her massive Carbonara, she opted for a portion of Samosa. Hector felt that it was time to try something different. The Lamb Sag would be a good test. Two Chapattis would be the perfect accompaniment, Bier was planned for afterwards so no Rice.
Mein Host brought a large bottle of Mineral Water, still. I instantly recalled how quickly I devoured the equivalent last July after our forced march from the Police Station. Tonight I was still in possession of my phone and my camera and in a much more relaxed frame of mind.
Let Hector not mislead his readers, this is a very seedy joint in a part of town where the white man is very much the minority, reminiscent of Bradford? The premises have a toilet which us usable, the place would pass hygiene tests one hopes. It is Spartan! (Sorry, even I think that was contrived…)
Marg's Samosas were brought with a Sweet Chilli Dip. Four pieces meant that Hector was permitted a sample. I do not normally order these but I could not let Marg eat all four. There was definitely Potato and not much Meat evident. The kick was decisive.
The Chapattis were brought on a traditional basket plate – they looked pale but had clearly been made fresh. I know from the previous visits how big and satisfying they are. Mein Host brought the Lamb Sag, gosh!
In the dim light the meal looked as dark as any Spinach based dish served at home. The camera flash illuminated the Curry and the Fresh Green Spinach stood out. The Masala was next to catch my eye, this had never seen an Onion. If one does not like Ghee then this is not for you. The Lamb and Spinach were sitting on a bed of Ghee which tasted wonderful. I took pleasure by just dipping the Chapatti before trying the Curry. The Spinach was unlike anything I have encountered before. There was lots of it, it seemed fresher than that encountered in the UK, it did not dominate the overall experience either, the strands were visible rather than the Sag Masala typically served. The Lamb was absolute perfection. One encountered the occasional sliver of bone, but the texture was exactly how Lamb should be cooked.
This was unlike any Curry I have ever eaten, it was more than a Lamb and Spinach Stew. The Spice content was significant, the flavours from the Lamb and Spinach were in balance. Marg watched, she could sense the pleasure.  She had been provided with a cup of Peshwari-style Tea which she always enjoys.
Mein Host appeared once more to seek approval, I think he remembered me. Having established where we were from there was the question as to whether Glasgow had any Curry Houses, perhaps he should open one?
The Bill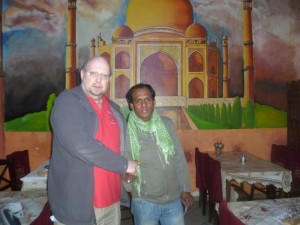 €18.00. The Bill felt incidental as by this time Mein Host and Hector were continuing our conversation. He could sense I was a Curry enthusiast and asked for my aforementioned card. I showed him the entry on Curry-Heute of my last visit. Somewhere in the excitement his name was lost, but we had the ritual photograph and parted on great terms.
The Aftermath
This is very much my favourite Curry House in Athens, it may also be the only one I have been to (eh?) so far, but I do have a cunning plan for Thursday lunch… When one finds something this impressive one returns if a Single Curry is all the trip permits. Applying similar logic we retired to Beer Time one Metro stop away at Monastiraki.