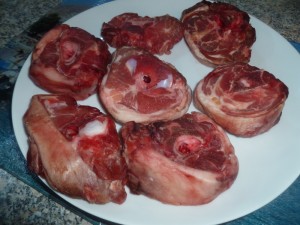 Hector does not normally consider Lamb Chops to be a worthwhile buy in the supermarket, overpriced and undersized.  Regular readers will know that Lamb Chops have been fed to Hector on an increasing number of occasions in recent times: Manchester, Bradford, and of course locally in Glasgow's Yadgar and Punjabi Charing Cross.
Imagine the pleasure when the local supermarket decided to sell over a kilo of the said beasts for pennies because it was late on a Monday and they know that after Coronation St, nobody goes shopping.
The Lamb Chops were defrosted overnight and cooked in the Wok with solid Spices: Coriander Seeds, Cloves, Cumin Seeds, Bay Leaves, and Cardamom.  The normal Hector Masala was prepared separately.  Once the Onions were suitably pulped the Chops were added to the mix and allowed to simmer for over an hour.  A tin of Karela, my first ever tin, was added late on along with some fresh Methi Leaves, another first. Plain Rice and some leftover, and whole, Chapattis from Yadgar would be the accompaniments.
When the feast was set before Marg she commented that this was as dry a Curry as she had encountered.  Now this was not going to be a meal Marg would want added to the normal Curry repertoire. Lamb on-the-bone can only be tolerate don occasion.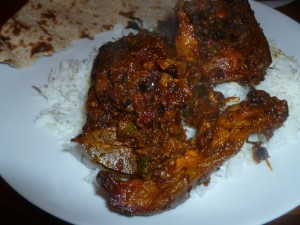 I hate to say it but the meal was superb.  The dry, thick Masala complemented the Chops.  The now familiar combined flavours of Methi and Karela I have come to recognise and crave.  This combination will meet again and the tinned variety of Karela works well; the brine means I do not have to worry about the salting.
There was a single Chop left, Robin was considered, and sadly for him the leftovers have been stored.